Sat, 30 August 2014
Episode 128 with Mike D: Jr. doesn't know anything about the Marvel Universe.
Mike was back this week.
We talked about Marvel stuff.
Chris Pratt is too cool.
Yeah. This is happening.
A frequent topic
Makes its glorious return.
Kickstarter owns us.
You wouldn't believe how long it took me to write those two terrible Haikus. But, they happened. So we'd best all just deal with it and move on.
Please don't let this post ruin 128 for you. I promise the episode is better than my attempt at syllabic poetry.
Mike episodes are always fun and full of Marvel goodness. Once again I'm made to feel foolish with my lack of S.H.I.E.L.D. knowledge. That alone should make the everything worth it. Enjoy!
-Jr.
Comments[0]
---
Fri, 22 August 2014
Episode 127 with Colin: Guardians of the Opinions.
It only took me the better part of a month but I finally caught up with the rest of the world and saw Guardians of the Galaxy.
I can't even begin to explain to you how frustrating it was having to wait this long. Joe and Colin were singing songs from the soundtrack literally all weekend long at BCC. Not to mention all the "oh man remember when" going back and forth. I now understand how someone who listens to this show might feel when we ruthlessly spoil movies just after they come out. (Hey, we're trying to get better. Remember our Spider-Man/Days of Future Past episode??)
But seriously though. There are a couple spoilers in this one but they're pretty easy to avoid: Simply skip to 40 minutes and you're gold. Boom. Roasted.
Oh hey there's also this time lapse video that we shot of the incomparable Brett Kelley at BCC. Bob of Dead Henchmen Productions threw it together for us with some slick graphics and stuff. It came out pretty neat!
-Jr.
Comments[0]
---
Sat, 16 August 2014
Episode 126: The 2014 Boston Comic Con Wrap-Up with Joe, Colin, and Brett Kelley!
Ok. So where do I even start with this?
We went to the 2014 Boston Comic Con last weekend. When I do some quick number crunching it tells me that it was our 5th year in a row attending. One might think "Gee golly wow. After 5 years has it lost any of it's luster??"
The answer is a simple and tremendous "no".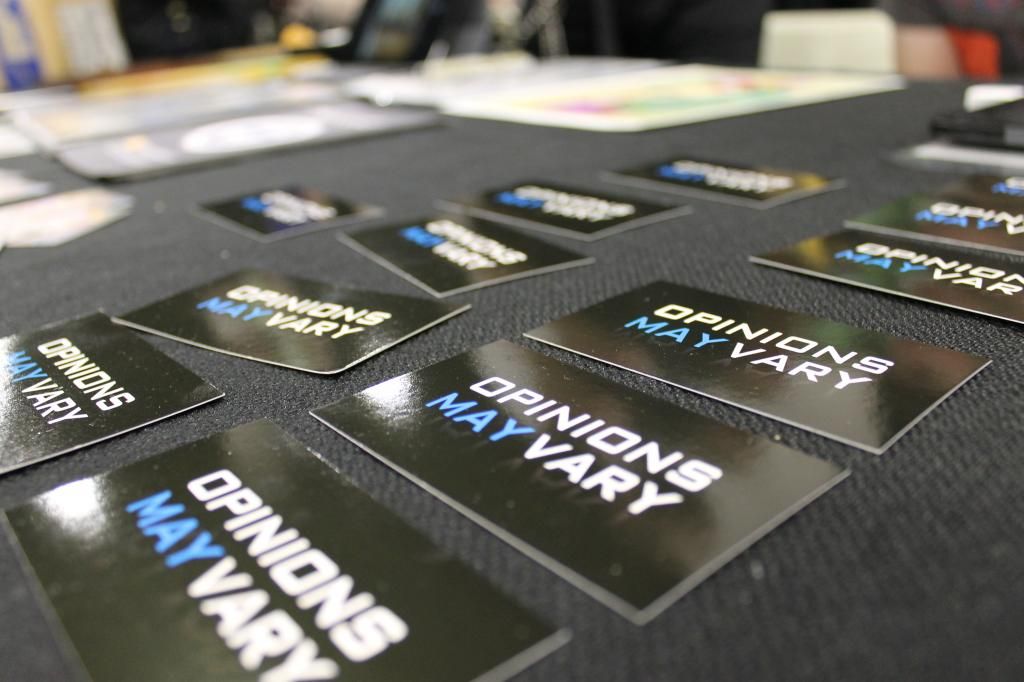 With each passing year BCC only gets better.
Last year we discovered the mystical land of tabling at a convention. Not only was it a blast but it was also an awesome success. After little deliberation we decided meeting people and watching Brett Kelley draw all day was definitely worth the price of getting a table again this year.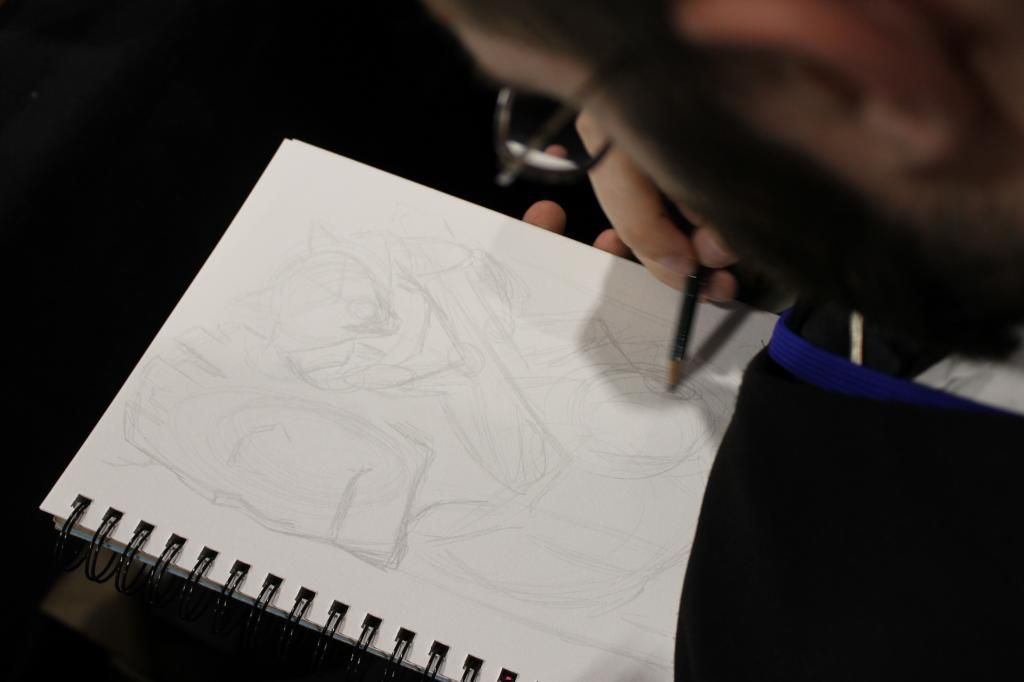 Front row seats to the best show in the house.
If you saw my post from a few weeks ago you probably noticed that we were placed near some high profile creators. Did we let this phase us?!? Maybe a little...but hey. When Gail Simone, Greg Capullo and Scott Snyder are RIGHT behind you...it's easy to get a little freaked out. Brett, on the other hand, was an art machine cranking out masterpiece after masterpiece despite all of the celebrity talent surrounding him.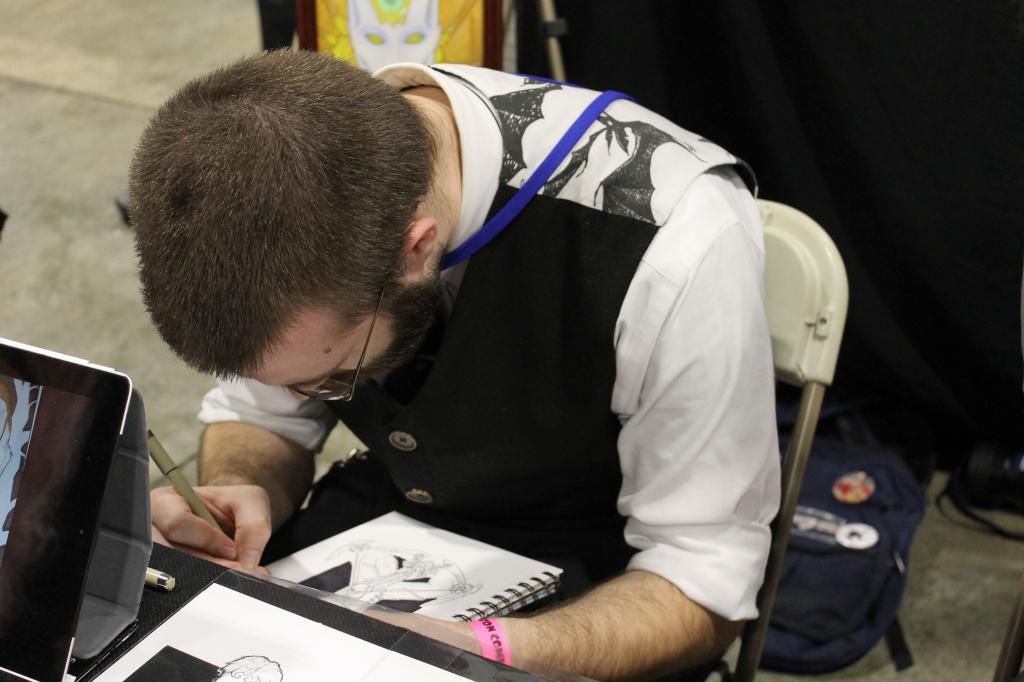 100% Art Focus. In the Art Zone. Having an Art Attack.
With this being the first year of BCC running a three day event I was a bit nervous we'd all be pretty burnt out by Sunday. We've gone to 3-4 day events before but we always bailed after the 2nd day. Having a table sort of changes this and I'll be the first to admit I was nervous.
Everyone knows concrete is the perfect napping surface.
Luckily I'm an idiot.
Despite being absolutely exhausted on Sunday afternoon I found myself wishing there was a 4th day. Alex and I have joked around about the "real life depression" before and I'm a firm believer that it is a definite "thing". After spending the weekend with your best friends doing nothing but the stuff that makes you happiest...going back to real life blows. It blows ass. It blows the most ass.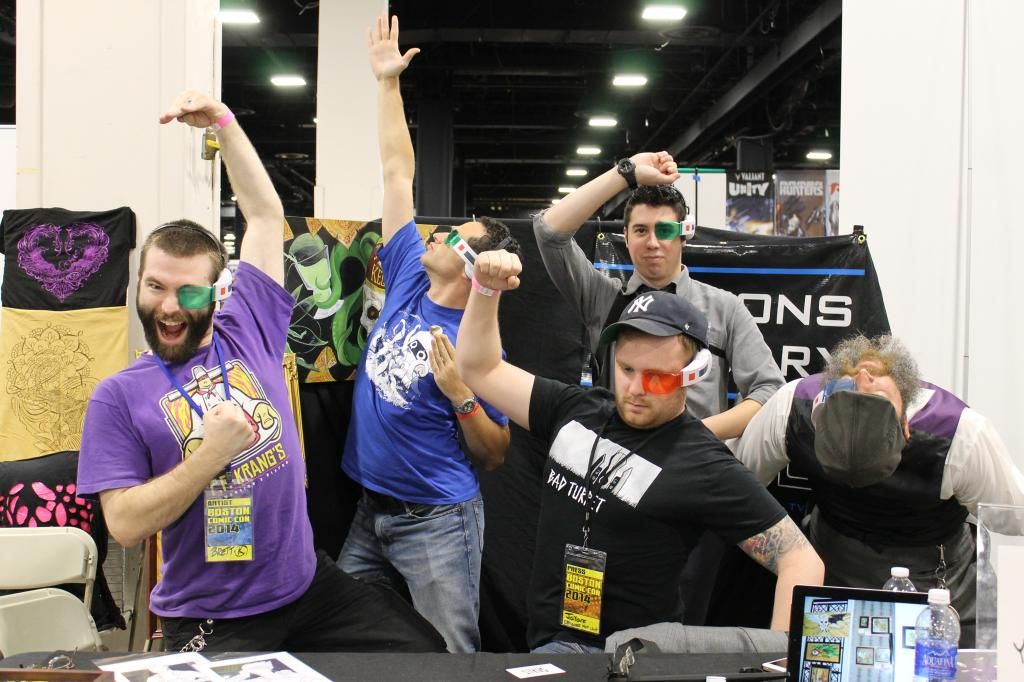 After 3 straight days of convention you'd think we would have been delirious.
Oh, and you've probably noticed Colin and Joe helped us out yet again. I feel like Alex and I can't thank these guys enough for all the things they've done for us. It's truly an honor to be able to call them friends. They have helped mold OMV into the broadcasting powerhouse (bahaha) that it is today and without them we'd be nothing but two morons ranting about Chew and Kickstarter.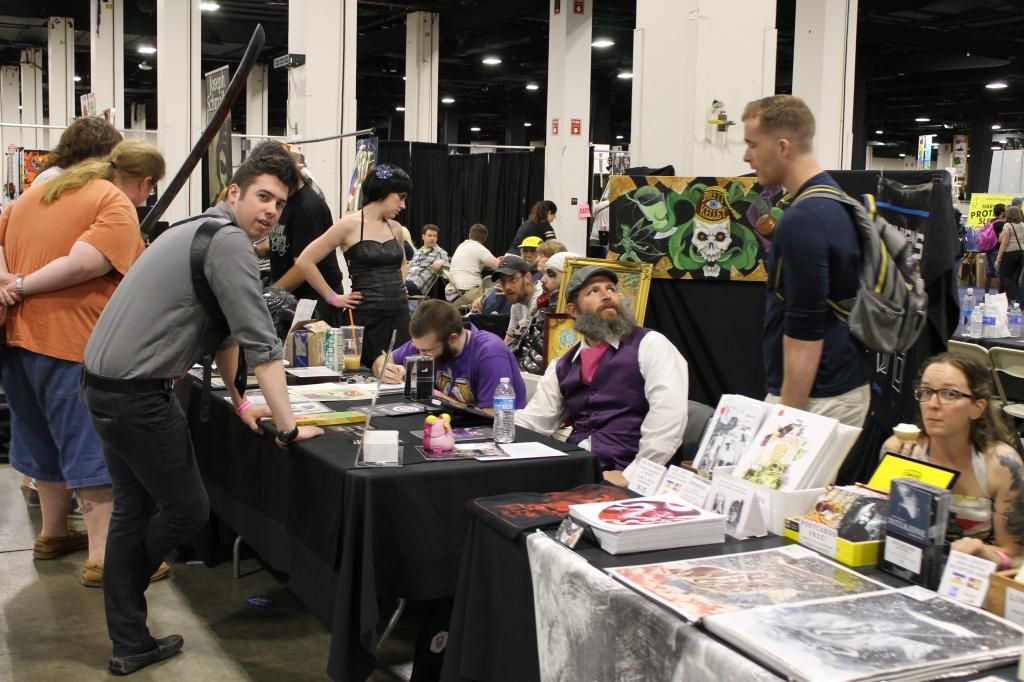 Walking up to our table and seeing these dudes never gets old.
Anyways. Enough sappy stuff. We have a fantastic 2 hour episode waiting for your faces and we'd love if you would listen to it. We also have a huge photo gallery on our Facebook page featuring a bunch of new friends and even some former guests!
Enjoy the episode, everyone. Thanks again to everyone who stopped by booth C821 and we hope to see you all next summer!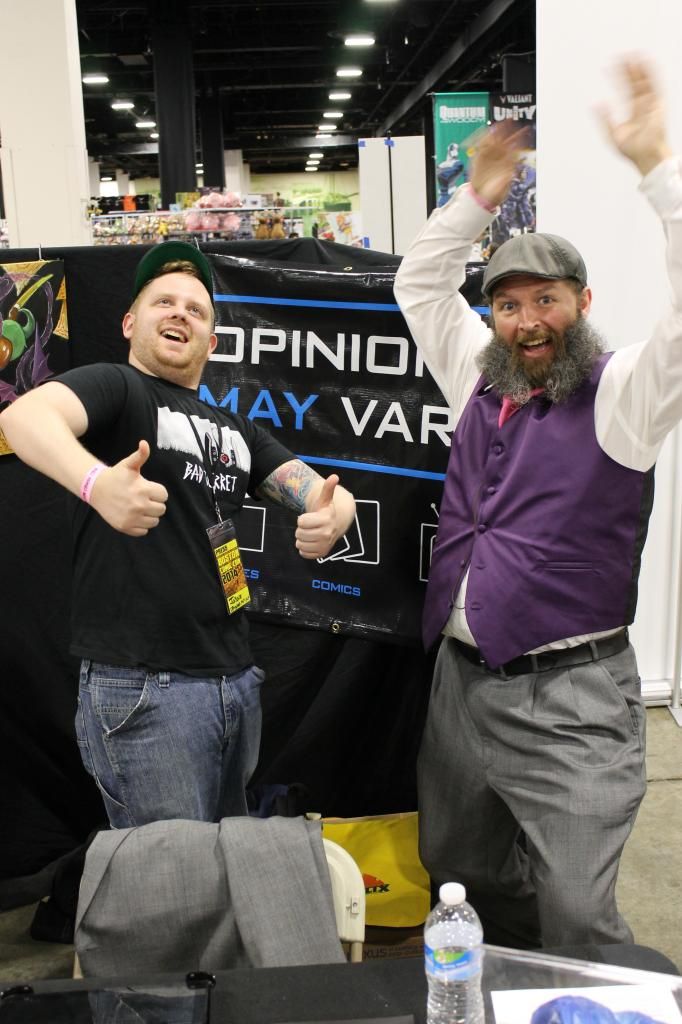 -Jr.
Comments[0]
---
Thu, 7 August 2014
Episode 125 with Steve: Batman v Superman v Opinions
So.
I just got back from the comic shop.
Saw a few of the DC Selfie Variant covers.
I uh.
*deep breath*
Words have escaped me.
Enjoy this week's episode everyone. Steve stopped by and he's always cool as hell.
I need to go take a shower and wash away the Selfies.
Selfie Variant Covers.
Those exist. They're real life.
-Jr.
Comments[0]
---
Sat, 2 August 2014
Episode 124 with Charlie from Sketchprices!
I must've made about 20 time travel jokes last night. I couldn't be stopped.
See. Our friend Charlie lives in California. Having never lived anywhere but Connecticut I have exactly 0 idea what it is like to be on the literal other side of the country. The three hour time difference was like a ripe joke-fruit begging to be plucked and relentlessly pounded into the ground until no one was laughing anymore.
Mission accomplished.
If you never heard episode 71 here's some info you should know: Charlie is a cool ass dude. He started a page devoted to sketchprices. And he's a huge fan of Jeffrey Brown. Boom. Knowledge'd. You should still listen to the episode though. It's dope. Is dope dead yeat? Should I stop saying it??
I'm gonna keep saying it.
And for the record: No. I have not seen Guardians of the Galaxy yet and No. I haven't seen the post-credits scenes. Time to quit the internet until I can manage to check it out.
-Jr
Comments[0]
---