Sat, 16 March 2019
Episode 365 with Artist Jim Calafiore: Does one ever really "leave" Megalopolis?
This week's episode is the direct result of a simple conversation at a convention almost 7 years ago.
Flash back to 2012 to the Hynes Convention Center at a show formerly known as "The Boston Comic Con". While wandering around looking for excuses to spend money I didn't have, I noticed Alex chatting with an artist and decided I'd go over and partake in some not-so-subtle eavesdropping. About 30 minutes later we walked away from this table, both with pages of original art in our hands and both of our wallets a little bit lighter. And both with huge smiles on our faces.
We didn't quite know it at the time, but the two of us had just experienced one of the most memorable moments we'd ever have at a convention. And it was all because of this week's guest: the incredibly talented Jim Calafiore.
For those unaware, Jim is an artist who has worked on books like Leaving Megalopolis/Surviving Megalopolis, Secret Six, Red Lanterns, Exiles, and many more. A true veteran of the industry, Jim is as humble as he is talented and is always a welcome sight whenever we spot him and his ever-growing splatter-print collection at conventions.
Be sure to check out his website HERE and stop by his table sometime if you see him at a show. With convention season gearing up there's a very good chance you'll have your own opportunity to create some memorable moments you'll recall for years to come.
Enjoy!
-Jr.
Comments[0]
---
Sat, 29 September 2018
Episode 341 With Artist Tony Moy: Opinions May Vary...Live?
If you follow us on any of the various social mediums you probably noticed we were spamming you pretty hard with links a few days ago. We apologize for the spam. Just know that it was justified in the fact that we got to try something new with a good friend of ours. If you happened to click on any of those links you'll know what I'm talking about but for those still in the dark here's a rundown:
Three years ago we first talked with artist Tony Moy after tabling a few spots down from him at Boston Comic Con. He came on the show, fun was had, much rejoicing. Seeing as it had been some time since we last talked we thought it would be neat to catch up. Tony agreed and also had the idea of streaming the interview live on his fancy Twitch channel so we figured what the hell. What's the worst that could happen? We say something stupid? Embarrass ourselves live in front of a bunch of people? No way. We've been doing this for too long to make rookie mistakes like that!
Famous last words, amirite?
Nah we kid. We had a blast and we can't thank Tony and his fans enough for the opportunity to entertain in a live environment. Be sure to check out his Twitch channel HERE and maybe toss a follow/sub his way. Until then, check out our talk with Tony as we catch up and find out what he's been up to these last 3 years.
Enjoy!
-Jr.
Comments[0]
---
Sat, 15 September 2018
Episode 339 With Artist Tom Raney!
I don't own the largest collection of convention sketches by any means and in recent years getting sketches by artists at conventions has taken a backseat to other "more important" things like "food" and "a mortgage". And after buying a house I had to make some decisions as to what sketches will go up on the walls and what sketches will be archived in my portfolio. Some decisions were harder than others; but one of the easiest ones was the sketch Tom Raney drew for me from Boston Comic Con a few years back. I mean look at this thing:
It's beautiful. And it deserves to be displayed.
With all that said we have some exciting stuff for you this week because Tom Raney himself gave us some time out of his busy schedule and let us do what we do best: Ask weird questions and gush over his talents.
You can check out Tom and his work on the various social mediums and even better there's a good chance you'll be able to see him at a convention near you (Hint: He's going to be at NYCC in a few weeks). Don't miss out!
Enjoy!
-Jr.
Comments[0]
---
Sun, 12 August 2018
Episode 334 with Colen: Let's Learn About Blerdcon!
In what could be considered one of the largest upsets of the last decade the unthinkable has happened. For the first time since 2010 we failed to make an appearance at the Boston Comic Con. We know. This is both extremely shocking and upsetting. But we're working through it and we're moving on.
Since we weren't going to be able to partake in the annual Boston festivities we decided to make it a learning opportunity. A few weeks ago our friend and OMV veteran Colen ventured down to Virginia to attend the 2nd edition of Blerdcon. Being two old men who rarely venture outside of the New England area for conventions Alex and I were eager to hear about Colen's experiences at a show that runs for 72 straight hours without stopping for rest.
If listening to us ramble for the next hour has you interested in the show, be sure to check out their site for updates or even take a look at this video made by our old pal Micah for a more visual representation of Blerdcon to go along with Colen's review.
Enjoy!
-Jr.
Comments[0]
---
Sat, 17 March 2018
Episode 313 With Artist Nooligan: Slingshots, Heartbreak, Rumluck, & Chuck Taylors.
Among his many talents, our pal Joe has a knack for spotting truly remarkable creators while walking the aisles in Artist Alley. And among my many talents, I have a knack for listening to him when he tells me he thinks he found someone I should check out. A prime example of this would be this week's guest Nooligan. During one of our ventures to Boston Comic Con a few years ago Joe pointed me in the direction of Nooligan's table and since then the entire OMV gang has amassed a trove of prints, books, sketches, and pins. I think it's safe to say Joe was right again.
Join us this week as we learn more about the artist behind the name and how he found success with a unique style, a chill mentality, and some Chuck Taylors.
Enjoy!
-Jr.
Comments[0]
---
Sat, 19 August 2017
Episode 283 with Sinéad Spelman: The 2017 Boston Comic Con!
The Boston Comic Con (or Fan Expo Boston?) was this past weekend and for the first time in 3 years we were finally at full power again. Our time at the BCC is always a positive experience but as we get older and our schedules line up less and less it can be difficult to get the whole metaphorical "gang" together at the same time for more than a few hours. And let's face it: When we can get the whole group together that "positive experience" turns into an amazing experience that legitimately resonates for weeks after it's over. Sadly the past couple years one or two of us couldn't make the trip due to schedule conflicts and while we still manage to enjoy the show there's definitely a noticeable void left by our missing crew member. But this year? The stars aligned. The schedules were free. And it was good.
In fact, it was more than good. Because not only did the Core 5 manage to sync up once again, but we had a 6th member join us on our annual trip to our favorite city to the north. Someone who had to fly over an entire ocean to get here. Someone who, despite having met some of us only hours beforehand fit right into the group with almost no effort at all and even though it was her first comic con ever she handled it like a damn champ and is already looking for more.
Tune in this week as we're joined by the lovely Sinéad Spelman as we recap our experiences from this past weekend at the Boston Comic Con!
Enjoy!
-Jr.
Comments[0]
---
Thu, 10 August 2017
Episode 282 featuring artist Kris Kehasukjaren!
"Hey man, did you see that?"
A common phrase muttered among us and our friends when we make the annual excursion out to the bay for the Boston Comic Con. With all of the incredible talent literally lined up in front of us every year, ensuring your friends witness that amazing thing you saw a minute ago is a top priority.
Last year, a prime example of "Hey man, did you see that?" was LA based artist Kris Kehasukjaren aka Kehasuk. His use of color and detail combined with his ability to tell a detailed story within a single image had all of us blown away. A quick visit to his website will show you exactly what I'm talking about as both fans of Japanese animation and nostalgic characters should have no trouble finding a piece they can relate to.
After having the opportunity to meet him last year at BCC and spending the better part of the ensuing months admiring his work on Instagram, Kris was kind enough to join us this week so we could dive a bit deeper into his creative process and get to know the man behind the works of Kehasuk. Check out his website linked above, find him on Instagram and keep your eyes peeled for those 24 hour sales; outside of catching Kris at a show it's the best chance you'll have to snag a piece of his work.
Enjoy!
-Jr.
Comments[0]
---
Fri, 14 October 2016
Episode 239 with Bil Withonel - Many Haunts One Family
I can't remember if it was Bob Ross who coined the term "happy accident" but for now I'm gonna go ahead and say it was.
This episode could be considered one of those happy accidents. In the best way...because a few times now we've seen this great Tony Stark cosplayer tearing through Boston Comic Con. His outfit consists of maybe some boots, maybe some gauntlets, some sunglasses, and that sweet case of armor from Iron Man 2. To put it bluntly, it's awesome. The handful of times we've been able to talk to him were great and it was evident he was a rad dude so obviously we were going to try to get him on the show.
Cut to Alex doing his thing and hunting the internet for contact info when he stumbles upon his Facebook page and what does he see? It turns out this guy is HUGE into the haunt life and has been working at various haunts for more years than I can count. So initially we sent out to have him on the show because of his spot-on Tony Stark...and found out that we could potentially have a new guest for our month of Spooky.
You see? Happy accidents.
-Jr.
Comments[0]
---
Sat, 24 September 2016
Episode 236 with Israel Skelton: The Return of The Skelton Crew
While wandering around the aisles of the Boston Comic Con last month I saw my partner in podcasting crime engaged in what looked to be a hearty conversation full of wonder and laughs. As I made my approach Alex noticed me and eagerly invited me to join in. I believe his exact words were something like "HEY. LOOK WHO IT IS!"
It was our pal Israel from Skelton Crew Studios. After exchanging the usual pleasantries Israel started to hint that there were big things on the horizon for him and The Crew. This resulted in the exchanging of the usual obscenities (all from me) and desperate attempts to coax out whatever secrets he was hiding. But alas. His resolve proved to be unmatched.
But that was last month. Time has passed. Contracts have been signed. New collectibles are coming. And Israel joined us this week to give us the 4-1-1 on some of them.
My wallet is already aching in the best way.
-Jr.
Comments[0]
---
Sat, 17 September 2016
Episode 235 with Kirby Chin: Con Season is Coming to a Close.
My computer was determined to stop this episode from happening. First I was almost late getting to Alex's place because of an update that held up my laptop from shutting down. Then during setup it had to then install said update.
Which took over an hour.
It even gave me the fantastic message of "Do not turn off your computer. This will take a while." Thanks for the heads up, laptop.
Lucky for us our guest this week was super patient and had no problem engaging in some casual bullshitting while we waited for my computer to finish pooping its metaphorical pants. We've mentioned our pal Kirby a few times in the past. He's another employee of the Boston Comic Con and while that's rad he's also a journeyman who loves to travel to conventions all over the country.
So we talked about that. And it was good.
-Jr.
Comments[0]
---
Sat, 20 August 2016
Episode 231: The 2016 Boston Comic Con: The Good, The Bad, And The Sweaty.
Hey all,
Just Alex and me this week telling tales of our trip to Boston last weekend for the 2016 Boston Comic Con. We only went for one day but we somehow managed to fill an entire episode with just the two of us...I can't really tell if that's a good or bad thing...for now I'll say it's good and start arguments with anyone who disagrees with me. That's the right way to do it, yeah?
Anyways. We've been talking about BCC a lot these days. So to some this might bring a bit of closure to our weeks of anticipatory statements.
Also. MAN was it hot last weekend or what?
-Jr.
Comments[0]
---
Sat, 6 August 2016
Episode 229 with Bob Shaw of Comic Art House and the Boston Comic Con!
UPDATE: It was brought to our attention by Bob and members of the Boston Comic Con Staff that some of Bob's comments were deemed inappropriate and we were asked to remove them after the episode was posted.
It's no secret that we're huge fans of the Boston Comic Con. We've long touted that it's one of the best shows around for people who like comic books and the artists/writers that create them. I guess after 6 years of attending, 3 years of tabling and hours upon hours of recap episodes it was only fitting that we get someone who actually helps make the show happen on our humble podcast.
And it finally happened because Bob Shaw has made his much anticipated OMV debut. Join us this week as we do our best to hype the upcoming BCC and list a bunch of names that might intrigue you. Honestly most of the episode consists of three comic book nerds talking about some of their favorite artists who might be in the city of Boston next week. How could you possibly miss out on that?
Oh by the way...not only does he work for one of the best comic book conventions on the East Coast but Bob is also an art representative for some of the industries top names. Wanna buy some art? Check out his site.
See you in Boston!
-Jr.
Comments[0]
---
Sat, 30 July 2016
Episode 228 with artist Ed Yancey!
The Boston Comic Con is literally 2 weeks away. Literally. We'll be there on Friday as good 'ol regular attendees spending too much money and gushing over our favorite artists. It'll be a good time.
You know what else is a good time? Chatting with the artist who was tabling next to us last year. We kind of have a small habit of doing this. Remember Dave? Well we're doing it again with our pal Ed Yancey. Ed is an artist based out of New York who like us is fueled by self-deprecation but unlike us he is full of talent. Pretty simple. Check out this week's episode to hear us chat with him about what it's like to be Ed Yancey and also to hear Jr. relive some horrible middle school art class memories. It's great.
Also, if you're interested in checking out Ed's artwork you should probably click HERE.
-Jr.
Comments[0]
---
Fri, 14 August 2015
Episode 178 with artist Tony Moy.
Whoever invented watercolor is a real dick.
Is something I would have said back in 7th grade while attempting to paint the lamest tree ever put on paper.
It's no secret that I'm terrible at art. Just awful. The literal worst. But when it comes to mixing water into little circles of color and using that new color-water to paint on to paper....it just amplifies my lack of talent to a completely new level. A level that should be considered torture for anyone who is forced to gaze upon the results. I can't even tell if that last part made sense...but you get where I'm going with it.
Anyway, if you've ever read any of these posts you can probably guess where I'm going with this. This week's guest is an artist we met last week at the Boston Comic Con named Tony Moy and he's what they call "awesome" when it comes to painting...particularly when it comes to watercolor. Seriously. Look at this stuff. It's insane. He even did an insane Magneto for Alex that you can check out in our BCC photo gallery.
If you're digging what you're seeing....have a listen to this week's episode. If you dig what you hear...check out Tony's table at a convention near you. (Hint: He's going to be at NYCC in two months. You're welcome)
Hope ya'll enjoy.
-Jr.
Comments[0]
---
Thu, 6 August 2015
Episode 177 with Joe and Brett: The 2015 Boston Comic Con Wrap-Up!
It's that time of the year again. That one beautiful weekend in August where we make the trip to the lovely city of Boston and set up shop for three days at the one and only Boston Comic Con. This is our 6th year in a row attending the show and our 3rd year tabling and like a fine wine (whatever that tastes like...) the show only gets better with age.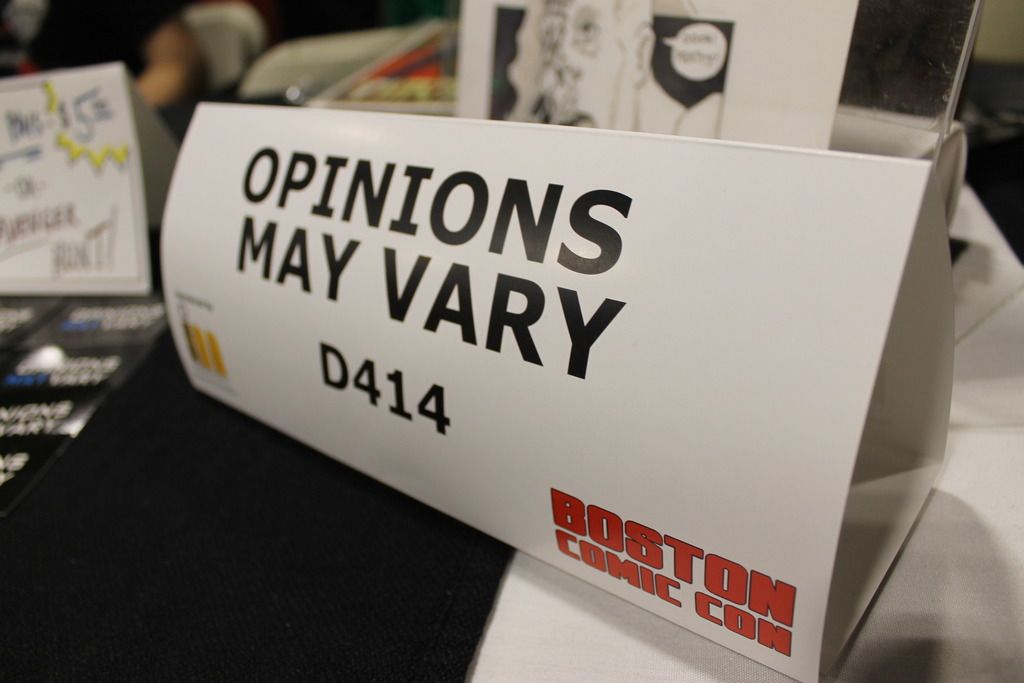 This year's show was both exciting and nerve-racking for me. On the one side many of my absolute favorite creators were in attendance and I had the opportunity to sit and have some fantastic conversations with them. But on the other side sat the feeling of "Man. This is expensive." With shows like BCC that are constantly growing one of the downsides is increasing ticket prices. It's a bummer. But at the end of the day I guess it's a necessary evil. Still, it sucks. The weird part was when we finally walked into the convention center for the first time on Friday. All those shitty feelings of regret and spending too much money? They were gone. I was at comic con with my people and I was going to have a great time.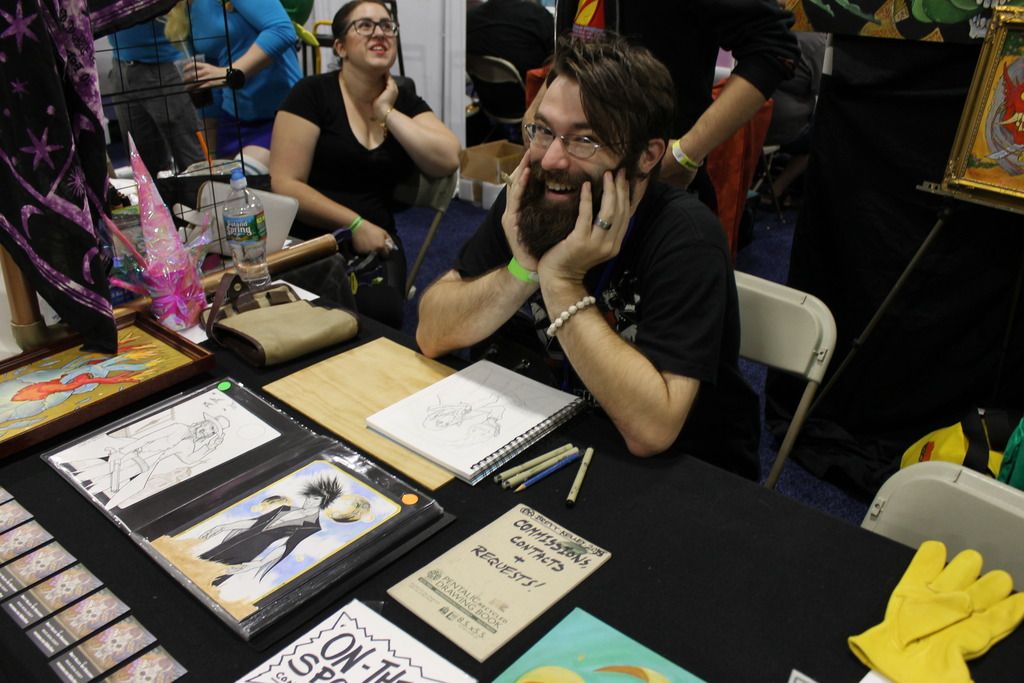 We did the table thing again this year. Of course that means we were side-by-side with the legend himself Brett Kelley all weekend. I mean come on. Look at that face. That's the face of a man who is ready to melt people's souls with incredible works of art (at insanely reasonable prices, I might add). And believe me when I say that this year Brett cranked out some of the best work I've ever seen from him. Including a giant evil robot for our pal Tom Franck.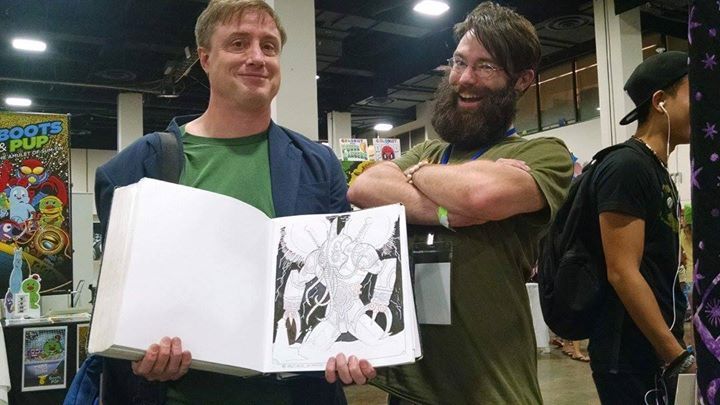 I'm barely scratching the surface of all we saw and did at BCC this year. Luckily we have an entire episode devoted to talking about the rest of it! Of course I can't end this without thanking everyone who came by our table and said hi, all those who even glanced in our general direction, and our ever loyal pal Joe for once again holding down our table when we were wandering off and promoting our show better than we ever could. You are all the greatest and really make this trip worth it. Now look at some more pictures!
-Jr.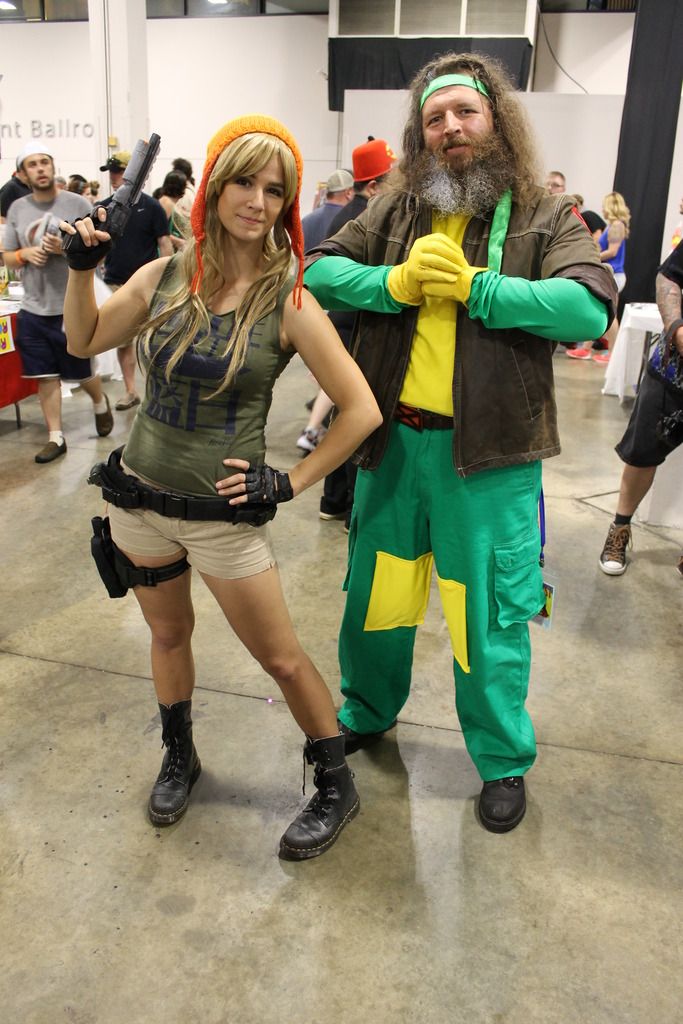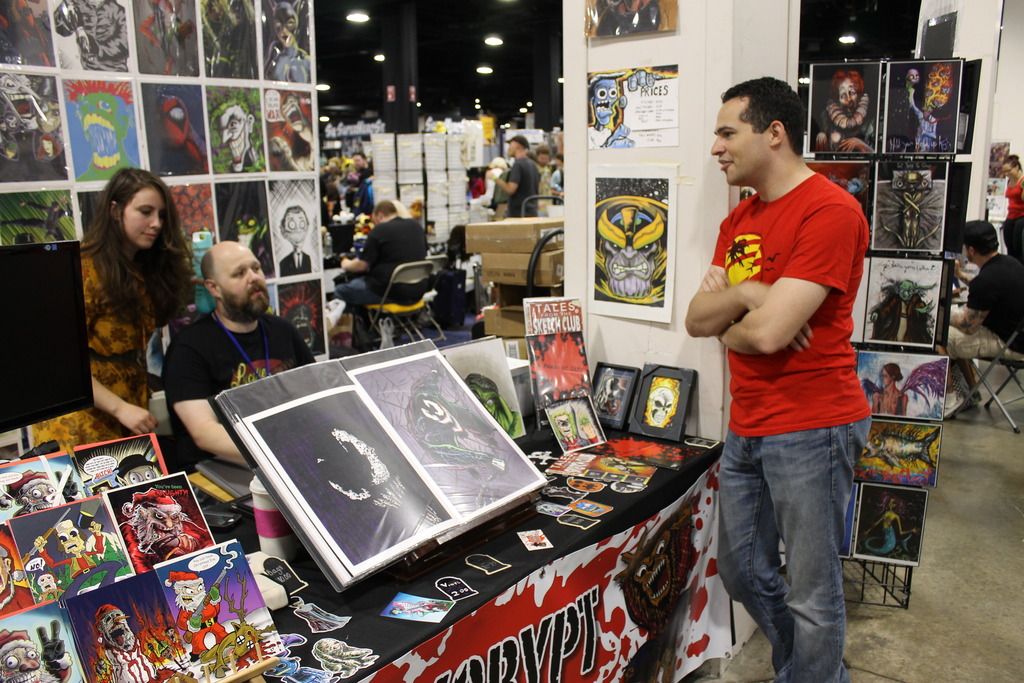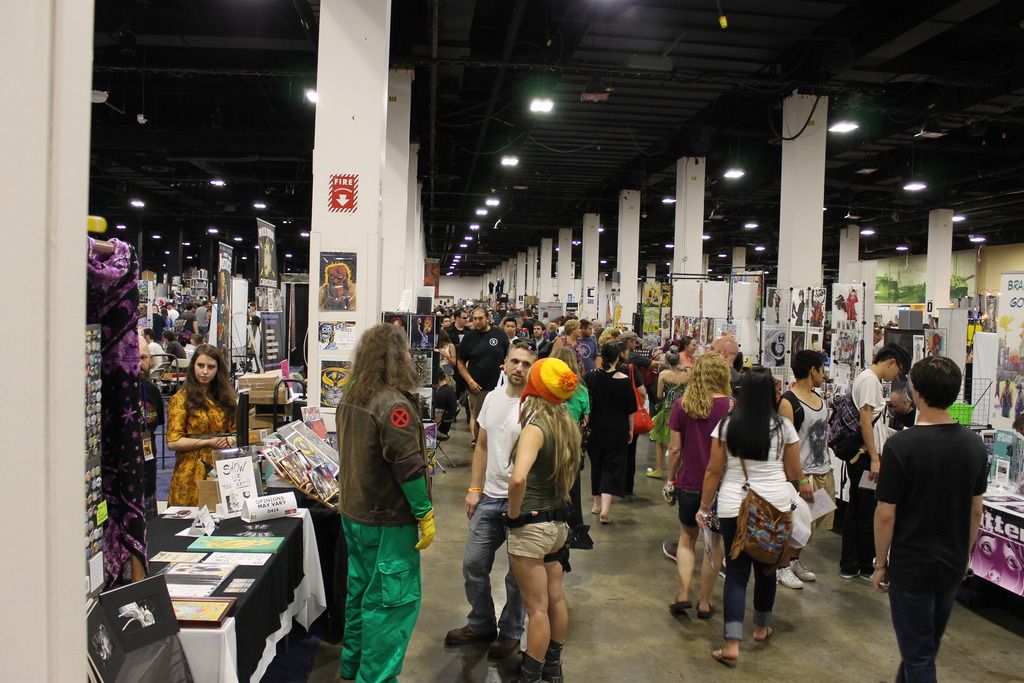 Comments[0]
---
Fri, 31 July 2015
Episode 176 with Joe: Summer Opinions Done Quick.
Hey.
It's currently 12:10 in the morning and we have to leave for Boston Comic Con in t-minus not a lot of hours.
So I'm gonna keep this short for now.
We talk about videogames, pokemon, and Boston Comic Con this week. Joe joined us. It was super chill.
We hope you absolutely love it. For those who are going to be at Boston this weekend, stop by table D414 and say hi and snag a neat pin.
You'll love it.
-Jr.
Comments[0]
---
Thu, 23 July 2015
Episode 175 with Tom Franck: Sketch Fightin' all the way to Boston.
Longtime listeners of the show might recall the last time Tom was our guest. After meeting him at the 2014 Boston Comic Con it was evident from the get-go that Tom was a great dude with some brilliant ideas for putting on shows at conventions. See, for me it can be standard practice to write off panels at certain conventions especially when they're just "Q+A with Celebrity A" and "Q+A with Celebrity B". The fact of the matter is 99% of the time I just don't care about that kind of stuff.
However.
Sometimes at shows you get the good stuff. The fresh and original stuff doesn't make you regret losing hours of valuable show floor browsing time. The kind of show that makes you declare "I need to see that!" after reading about it in the program. If you haven't guessed it by now I'm talking about Tom's shows: Comics & Comics and Sketch Fighter. Join us this week to learn all about Tom and his brand of comic themed comedy shows and be sure to check them out at a convention near you. (Like Boston Comic Con. Next week. Do it.)
Oh, and while I'm at it. Did I mention Boston Comic Con is next weekend? For those wondering: The answer is Yes. We're totally tabling again this year. This will be our third year in a row rocking a table with the incredible Brett Kelley and with each passing day our excitement grows tenfold (maybe even twelvefold). If you're in the area, specifically the World Seaport Trade Center in Boston next weekend, stop by table D414 and say Hi! We'll have pins for sale and Brett will be doing his arts in exchange for various amounts of moneys. I don't think I'm exaggerating when I say "It's gonna be somewhat of a good time." Don't miss out!
-Jr.
Comments[0]
---
Sat, 14 February 2015
Episode 152 with artist Dave Mahan.
You ever look back on past events and really question the decisions you made during that event?
You ever look back and think "Hey. The dude at the table next to us at the Boston Comic Con last summer was really cool and his artwork is currently blowing my face off with awesome. Why didn't we talk to him more?"
Yeah. Us too.
Our guest this week is artist Dave Mahan. If you haven't guessed by now he he was stationed next to us at Boston last year. While we chatted and joked every so often throughout the weekend we never really took the proper time to check out his work and really see what he was about. In other words we were fucking idiots. Lucky for us we got a second chance this week.
Want to see some of his art? Click here. And here. Or even here. And maybe even here if you want to buy some of it.
We hope you learn something from this episode. Don't be like us. Don't make the same mistakes we did. Talk to your table-mates. You never know who might be sitting right next to you.
-Jr.
Comments[0]
---
Sat, 6 September 2014
Episode 129 with Tom Franck of Comics and Comics!
Last month at the Boston Comic Con we had a gentleman approach our table and ask us about our "Show us your art" sign. We told him about how we like to look at people's art and he informed us that he had some art to show.
Neat!
Well it turns out this gentleman wasn't lying. His name was Tom and he had a book. A tome. An encyclopedia sized sketchbook: Full. Of. Sketches.
It was....amazing. Our jaw's dropped and our eyes filled with tears (just kidding. OR AM I?) This man had a collection that would make any comic fan stand in awe. Pages upon pages of a themed sketchbook; each page with a different artist drawing a different "giant evil robot". So simple. Yet so genius.
Tom turned out to be a cool dude and he's a friend of Charlie from Sketchprices. It was a no-brainer: We had to have him on the show.
And we did.
And now you can listen to it.
Also, while you're listening: Check out Tom's comedy group. They could be coming to a convention near you so be on the lookout!
-Jr.
Comments[0]
---
Sat, 16 August 2014
Episode 126: The 2014 Boston Comic Con Wrap-Up with Joe, Colin, and Brett Kelley!
Ok. So where do I even start with this?
We went to the 2014 Boston Comic Con last weekend. When I do some quick number crunching it tells me that it was our 5th year in a row attending. One might think "Gee golly wow. After 5 years has it lost any of it's luster??"
The answer is a simple and tremendous "no".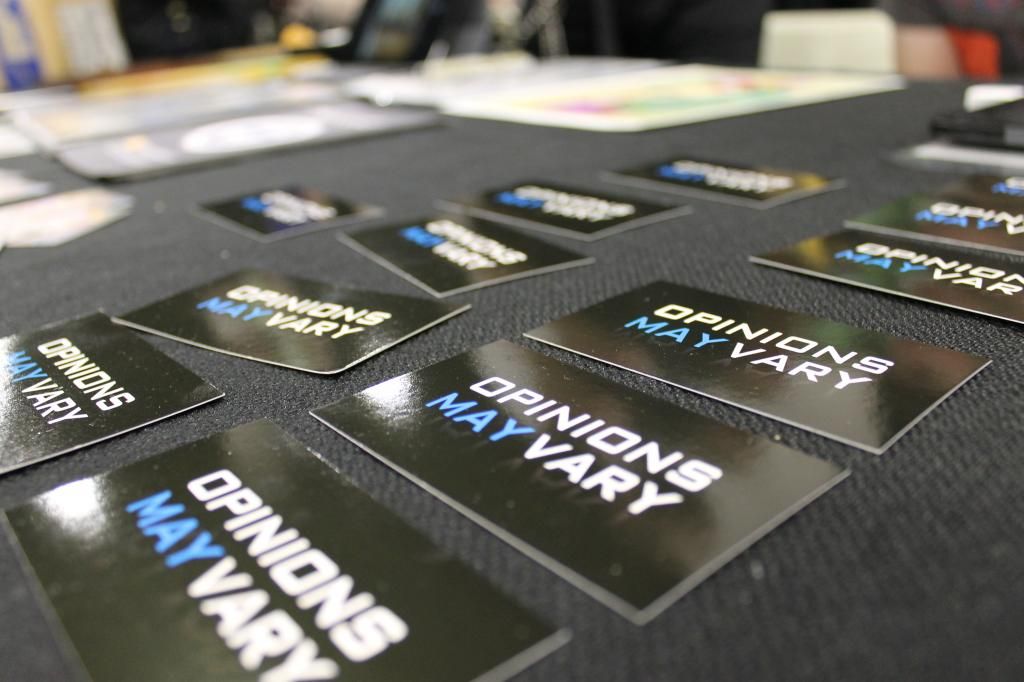 With each passing year BCC only gets better.
Last year we discovered the mystical land of tabling at a convention. Not only was it a blast but it was also an awesome success. After little deliberation we decided meeting people and watching Brett Kelley draw all day was definitely worth the price of getting a table again this year.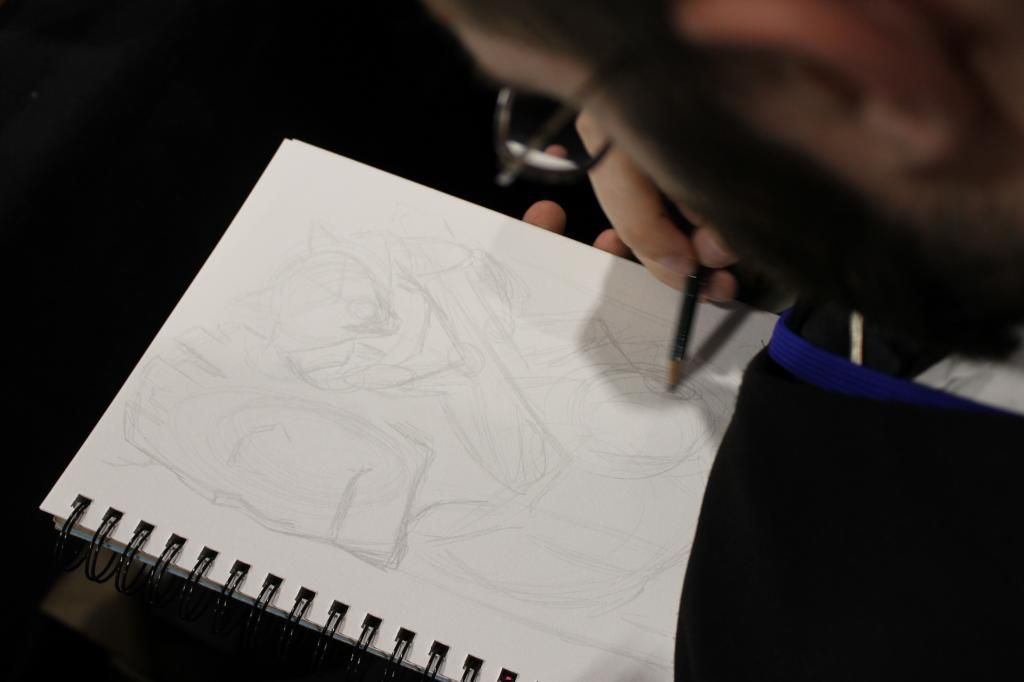 Front row seats to the best show in the house.
If you saw my post from a few weeks ago you probably noticed that we were placed near some high profile creators. Did we let this phase us?!? Maybe a little...but hey. When Gail Simone, Greg Capullo and Scott Snyder are RIGHT behind you...it's easy to get a little freaked out. Brett, on the other hand, was an art machine cranking out masterpiece after masterpiece despite all of the celebrity talent surrounding him.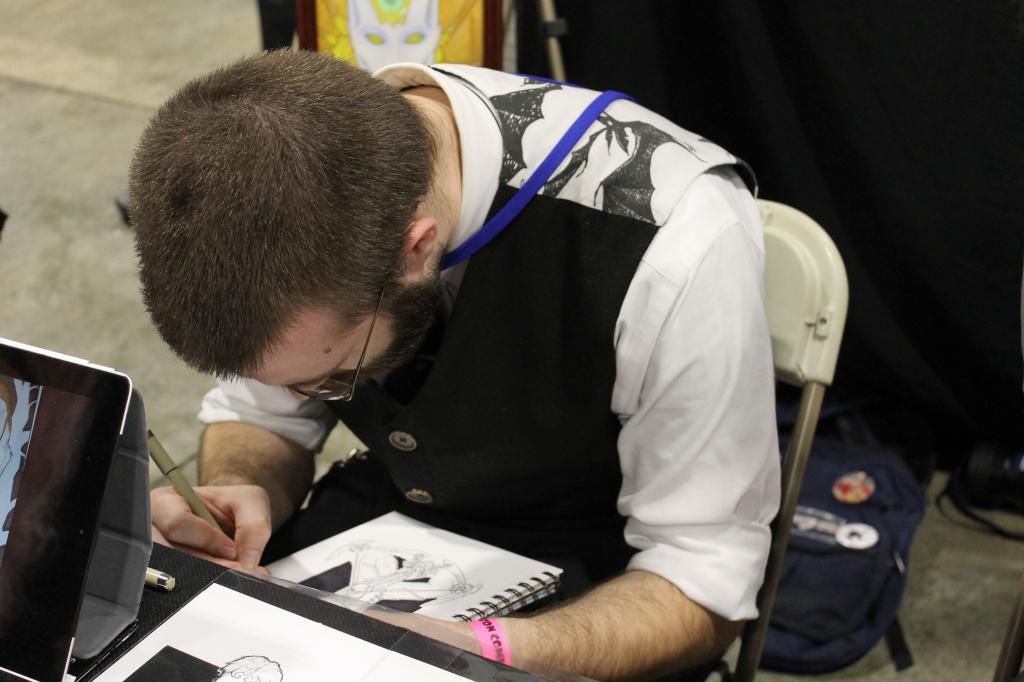 100% Art Focus. In the Art Zone. Having an Art Attack.
With this being the first year of BCC running a three day event I was a bit nervous we'd all be pretty burnt out by Sunday. We've gone to 3-4 day events before but we always bailed after the 2nd day. Having a table sort of changes this and I'll be the first to admit I was nervous.
Everyone knows concrete is the perfect napping surface.
Luckily I'm an idiot.
Despite being absolutely exhausted on Sunday afternoon I found myself wishing there was a 4th day. Alex and I have joked around about the "real life depression" before and I'm a firm believer that it is a definite "thing". After spending the weekend with your best friends doing nothing but the stuff that makes you happiest...going back to real life blows. It blows ass. It blows the most ass.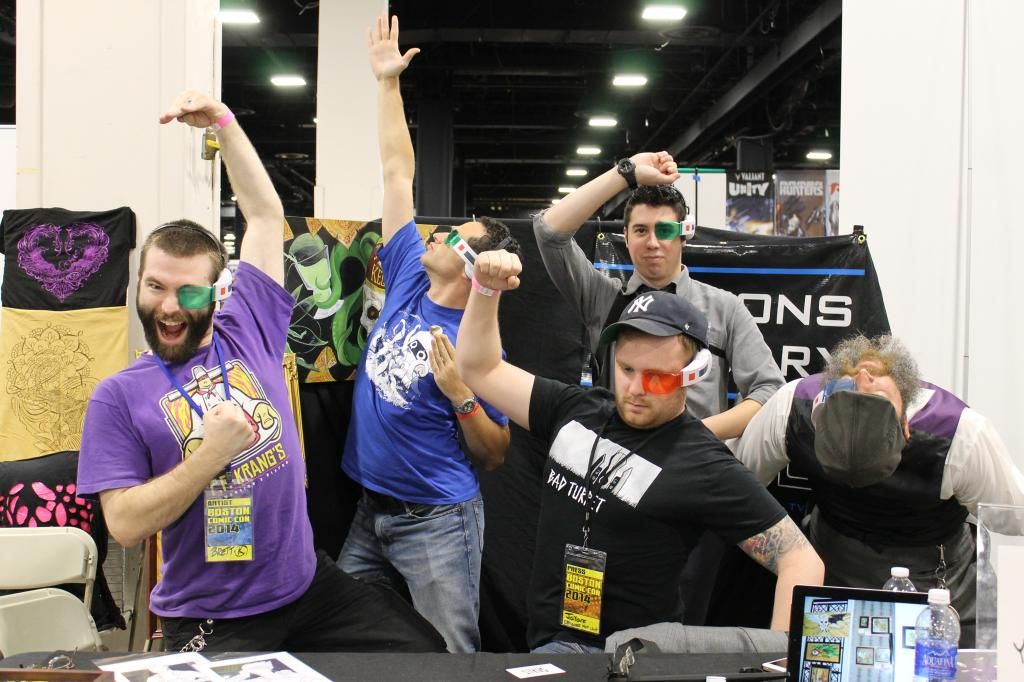 After 3 straight days of convention you'd think we would have been delirious.
Oh, and you've probably noticed Colin and Joe helped us out yet again. I feel like Alex and I can't thank these guys enough for all the things they've done for us. It's truly an honor to be able to call them friends. They have helped mold OMV into the broadcasting powerhouse (bahaha) that it is today and without them we'd be nothing but two morons ranting about Chew and Kickstarter.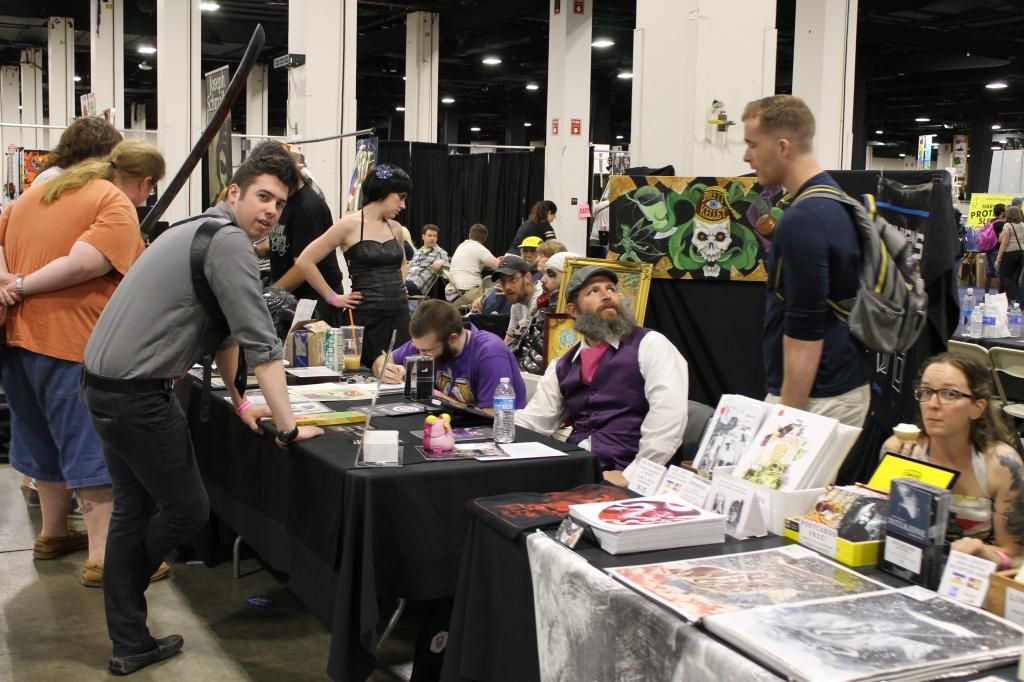 Walking up to our table and seeing these dudes never gets old.
Anyways. Enough sappy stuff. We have a fantastic 2 hour episode waiting for your faces and we'd love if you would listen to it. We also have a huge photo gallery on our Facebook page featuring a bunch of new friends and even some former guests!
Enjoy the episode, everyone. Thanks again to everyone who stopped by booth C821 and we hope to see you all next summer!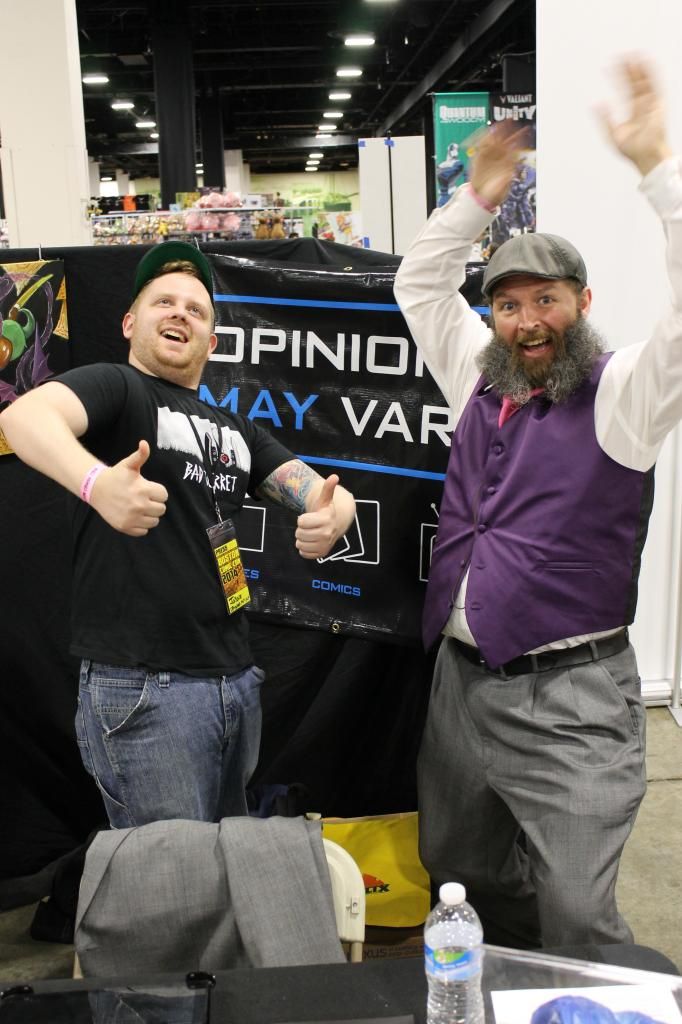 -Jr.
Comments[0]
---
Sat, 26 July 2014
Episode 123 with Will: Fluxx'ed up Opinions.
I'm currently sitting at home on my computer. I'm not walking around a huge convention center in San Diego. This makes me so sad. So very sad.
There's light at the end of this dark, sad tunnel though...Boston Comic Con is but two weeks away and that makes me so happy. Why? Because we're tabling there of course. Remember when we did that last year and it was awesome? We're doing it again. I even made a neat little graphic showing where you can find us:
Pretty neat, right??
Anyway. This week's episode was a ton of fun. There was a lot less swearing than last week and Will's pitch was so good he had me hooked not 10 minutes after the episode ended. Proof? Here you go:
If you have no idea what that is and can't read the name on the back of the black card on the left than you should have a listen and get your learn on. It's totes worth it. I also totes hate that I just used the word totes. It'll never happen again.
Maybe.
Enjoy episode 123. It's the classiest stuff we've ever done.
-Jr.
Comments[0]
---
Sat, 16 November 2013
Episode 87: Ken talks Rhode Island Comic Con!
Back in the day (2 years ago) we agreed that with our respective occupations and budget limitations we would do two conventions a year: The Boston Comic Con and the New York Comic Con. At the time, they were 6 months apart from each other giving us plenty of time to save, prep, and get excited for each one every year. Since OMV has started to grow ever so slightly, we've started expanding our horizons. If you're an avid listener you've heard our episodes wrapping up The Steampunk World's Fair in New Jersey and ConnectiCon in Hartford. We've started throwing around different conventions that we would like to attend some day and the Rhode Island Comic Con has come up once or twice. Sadly, since it usually falls in October (busy season for Alex as he's kind of a big deal when it comes to making zombies) it's just not in the cards at the moment. Luckily, we have friends! Friends who can attend RICC! Friends who can come on and tell us about it! Huzzah!
Also, I started the Game of Thrones books this week. I expect to laugh, cry, and throw books across the room as all of the characters I'm going to come to love are quickly and brutally murdered in front of my very eyes. I'm pretty excited.
-Jr.
Comments[0]
---
Thu, 8 August 2013
Episode 73: The Boston Comic Con Wrap-Up with Brett and Colin!
We've been going to the Boston Comic Con for the past 4 years now and after this weekend I can confidently say that I never plan on ever missing it. It was definitely a bummer when the event was postponed but no one can argue that it was absolutely necessary. At the end of the day it was well worth the wait. The venue was larger, the weather was perfect and the atmosphere was incredible.
I don't want to say too much more as it would totally ruin the episode so do yourself a favor and click that link! Sadly Joe wasn't able to make it to the wrap-up, but hopefully Colin, Alex, Brett and I will be able to fill those fancy, fancy shoes.
-Jr.
Comments[0]
---
Tue, 30 July 2013
Episode 72 with Colin!
Buying a 3DS has had a severe impact on my productivity. For example: I wanted to have this written two days ago. But. Fire Emblem. So....yeah, there was a bit of a delay. Can you really blame me, though? Ever since I sold my DS Lite those many years ago it has felt like a piece of me was missing. A piece that specialized in handheld joy. Endless amounts of entertainment right at my fingertips. Although, I'll admit my DS Lite never made me want to vomit....I don't see how anyone could use the 3D function consistently without wanting to force a pair of scissors through their eye sockets.

As per Colin's recommendation I picked up Fire Emblem as my first game. My only experience with the Fire Emblem games is playing as Roy/Marth/Ike in Super Smash Brothers. So, really I have no experience with the Fire Emblem games. I've never really been into the turn-based strategy games before (I was God awful at Advance Wars) but I will admit I simply can't stop playing this game. I'd give a full review, but honestly I'm way too lazy. Besides, it has absolutey nothing to do with this week's episode.

Colin Skype'd with us this week and told us all about a LARP'ing event he attended last weekend. I know what you're thinking. You're thinking "UM, I'VE SEEN ROLE MODELS SOOOO I KINDA KNOW ALL ABOUT LARP LOL NERDS". Well, you might want to have a listen to what Colin has to say because, excuse the language, that shit sounded fucking sweet. So. Hold your judgements for after the episode.
Oh, and we're going to be at the Boston Comic Con this weekend. We even have a table and stuff that we're sharing with Brett Kelley: Art Mercenary. Yes, THAT Brett Kelley. We're kind of excited because while we've been to Boston plenty of times; we've never had a table before. It's going to be a new experience and I'm crazy excited to chat with people from the "other side". (Meaning from behind the table instead of awkwardly standing in front of it thumbing through artwork until the artist decides to humor me and look up...)
Check in next week for our typical wrap-up episode.

-Jr.
Comments[0]
---
Mon, 29 April 2013
Opinions May Vary Episode 59 with Joe!
Hey everyone,
Joe is back in studio to join us for a special episode this week.
Last time Joe joined us we discussed our initial reaction to Bioshock Infinite and what we thought of the game. Now that we've all had time to play and complete it we brought Joe back in to give our post-game thoughts and reactions. Note: This discussion is extremely SPOILER HEAVY. If you haven't played/completed Infinite yet and plan on doing so we recommend listening to this episode after you finish!
We also hit Joe with the Flash Questions and discussed the latest info about the new date for the 2013 Boston Comic Con!

Comments[0]
---
Sun, 21 April 2013
Opinions May Vary Episode 58 with Colin!
Hey everyone,
Colin was nice enough to stop in this week to help us discuss the postponement of the Boston Comic Con and all the details that have surfaced since their announcement.
We also hit Colin with the Flash Questions and discussed the new fighting game Injustice: Gods Among Us (that game where DC characters decide to fight each other).
Enjoy!
Comments[0]
---
Sun, 7 April 2013
Opinions May Vary Episode 56 with Jared Skolnick!
Hey everyone!
This week's guest is local director/producer/cinematographer Jared Skolnick!
Jared joins us this week to talk about his short film "The Earth Rejects Him" which will be screened both days at the Boston Comic Con Film Festival! Check out his work at www.skolnickfilms.com.
We also hit Jared with the Flash Round, discuss the Veronica Mars Kickstarter, and reflect on the season finale of The Walking Dead!
Comments[0]
---
Mon, 11 March 2013
Opinions May Vary Episode 52 with Art!
Welcome back!
Joining us for episode 52 this week is our good friend and first time guest Art!
Show topics include:
-Sim City and their recent release debacle.
-Art's incredible cause to kick cancer in the ass.
-News about Boston Comic Con
-The weekly question!
Only one more week until our ONE YEAR ANNIVERSARY!
Comments[0]
---
Mon, 23 April 2012
Opinions May Vary Episode 6 Featuring Jon York!
Hello again!
This week's episode is a special one as we had our very good friend Jon York as a special guest! Jon is visiting us from Florida and was kind enough to be a part of our Post-Boston Comic Con episode. He added great insight and humor that only Jon could provide and we were pumped to have him on the show!

As I said before, this episode is all about the recent Boston Comic Con and all the experiences we had so be sure to get comfortable, be ready to laugh, and enjoy!

Thanks again to Jon for taking time out of his busy vacation schedule to record with us. New England isn't the same without you, Jon!
Best,
Jayare, Justin, Alex, & Jon.

Comments[0]
---
Mon, 16 April 2012
Opinions May Vary Episode #5: The Boston Comic Con!
We're back with another episode of Opinions May Vary!
This week is special as we are going to be attending the Boston Comic Con this coming Saturday so we decided to dedicate the entire episode to the convention.
We start out with some basic convention info. Who we're excited to see, what we're looking forward to and such.
We continue with a topic we've been eager to discuss since we started this project: The Do's and Dont's of attending a convention. With years of experience under our collective belts we've gained a knowledge of Comic Conventions and we took some time to share our thoughts on some issues.
We follow with the question of the week: Our personal best/worst moments of conventions past. The answers are interesting to say the least...
Finally we finish up with the inevitable "dud sketch" discussion. As with every sketch comes a level of risk. Every now and then...you're going to get a dud. Listen in as we talk about some of our past duds and how to avoid getting one of your own.
That about wraps up the Boston Comic Con episode. Be sure to tune in next week and join us for our post-convention discussion. Also, we're going to have a very special guest with us: Mr. Jon York! It is going to be a great time and you won't want to miss it!
Love always,
Jayare, Justin, & Alex.
Comments[0]
---
Sun, 8 April 2012
Opinions May Vary Episode #4
Welcome back everyone!
Join us for Episode 4 of Opinions May Vary!
This week we dive right into comics with some Avengers vs. X-Men discussion. Can Marvel make its way back to the top of the comic charts??
Next, we take some time to discuss the first comics we ever read/the comic that got us in to reading comics. Be warned....we definitely date ourselves with our answers...
Finally we wrap it up with the latest news on the original art from Walking Dead #2 selling on eBay and touch on what art we've purchased/what we're anxious to buy but might not be able to afford...
Be sure to join us next week for the Boston Comic Con special! With the convention right around the corner we're going to take some time to discuss what we're most excited for plus a few tips on what to do and not to do at conventions. Always remember: Don't be that guy!!
Also, big shout out to Riley Stark for designing our logo for us! Her work is amazing. Be sure to check her out on Facebook and Deviant Art.

See you next week!
Jayare, Justin, & Alex.
Comments[0]
---