Wed, 26 August 2015
Episode 180 with Matthew James: The Summer of Slams.
It's beginning to get to the point where I'm terrified whenever Matt joins us. For one thing whenever he comes on the end result is a really, really good show. Both of his previous appearances have been huge for us not only for listenership but also for pure entertainment value. They're fun as hell and I always learn something. The amount of "dude, great episode" texts I get after every Matt episode is staggering.
Which is starting to freak me out. Surely there's no way a third episode can ever compete with the first two. I mean, our intro to Matt on episode 151 was just an educational clinic on the local wrestling scene. Then when he came back on 165 he left my jaw on the ground after telling one of the most unbelievable stories I've ever heard. (Seriously. It involves Jake the Snake Roberts and you are a fool if you haven't heard it yet.) I mean, how could it be possible to continue a streak like that? Even the Undertaker isn't perfect.

But us? Right now? We're 3 for 3.
And maybe a little arrogant but hey, we think if you dug the first two times Matt joined us then you will definitely want to be all up on this one. The best part? There's more to come. Survivor Series is but 3 months away and you can bet your bottom that Matt will be back to try and convince Alex that Brock Lesnar isn't a worthless pile of muscles. (Probably never going to happen...but it's something that's always beautiful to watch.)
Until next time.
-Jr.
Comments[0]
---
Sat, 22 August 2015
Episode 179: I'd buy that variant for a dollar.
Join us this week to listen to three grown men talk about Looney Tunes for 40 minutes. It is 100% worth your time.

-Jr.
Comments[0]
---
Fri, 14 August 2015
Episode 178 with artist Tony Moy.
Whoever invented watercolor is a real dick.
Is something I would have said back in 7th grade while attempting to paint the lamest tree ever put on paper.
It's no secret that I'm terrible at art. Just awful. The literal worst. But when it comes to mixing water into little circles of color and using that new color-water to paint on to paper....it just amplifies my lack of talent to a completely new level. A level that should be considered torture for anyone who is forced to gaze upon the results. I can't even tell if that last part made sense...but you get where I'm going with it.
Anyway, if you've ever read any of these posts you can probably guess where I'm going with this. This week's guest is an artist we met last week at the Boston Comic Con named Tony Moy and he's what they call "awesome" when it comes to painting...particularly when it comes to watercolor. Seriously. Look at this stuff. It's insane. He even did an insane Magneto for Alex that you can check out in our BCC photo gallery.
If you're digging what you're seeing....have a listen to this week's episode. If you dig what you hear...check out Tony's table at a convention near you. (Hint: He's going to be at NYCC in two months. You're welcome)
Hope ya'll enjoy.
-Jr.
Comments[0]
---
Thu, 6 August 2015
Episode 177 with Joe and Brett: The 2015 Boston Comic Con Wrap-Up!
It's that time of the year again. That one beautiful weekend in August where we make the trip to the lovely city of Boston and set up shop for three days at the one and only Boston Comic Con. This is our 6th year in a row attending the show and our 3rd year tabling and like a fine wine (whatever that tastes like...) the show only gets better with age.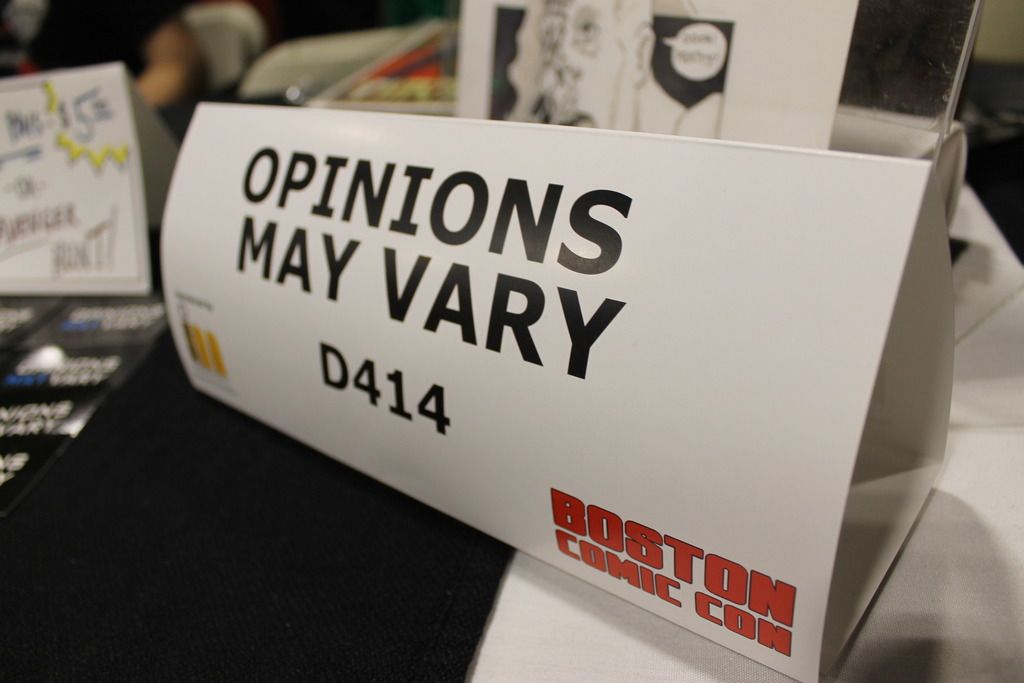 This year's show was both exciting and nerve-racking for me. On the one side many of my absolute favorite creators were in attendance and I had the opportunity to sit and have some fantastic conversations with them. But on the other side sat the feeling of "Man. This is expensive." With shows like BCC that are constantly growing one of the downsides is increasing ticket prices. It's a bummer. But at the end of the day I guess it's a necessary evil. Still, it sucks. The weird part was when we finally walked into the convention center for the first time on Friday. All those shitty feelings of regret and spending too much money? They were gone. I was at comic con with my people and I was going to have a great time.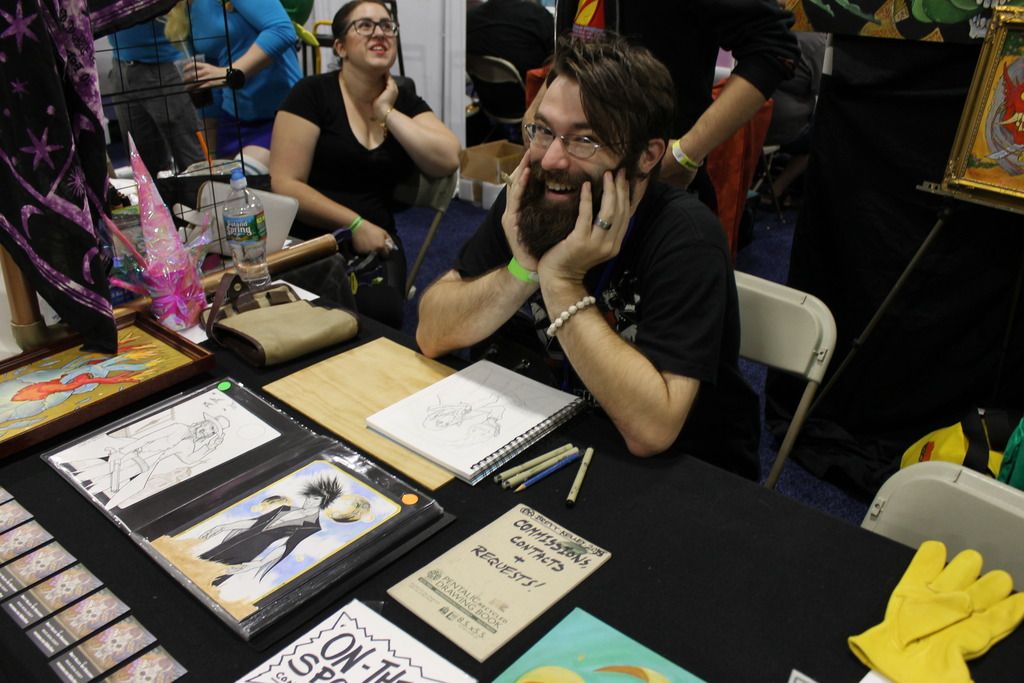 We did the table thing again this year. Of course that means we were side-by-side with the legend himself Brett Kelley all weekend. I mean come on. Look at that face. That's the face of a man who is ready to melt people's souls with incredible works of art (at insanely reasonable prices, I might add). And believe me when I say that this year Brett cranked out some of the best work I've ever seen from him. Including a giant evil robot for our pal Tom Franck.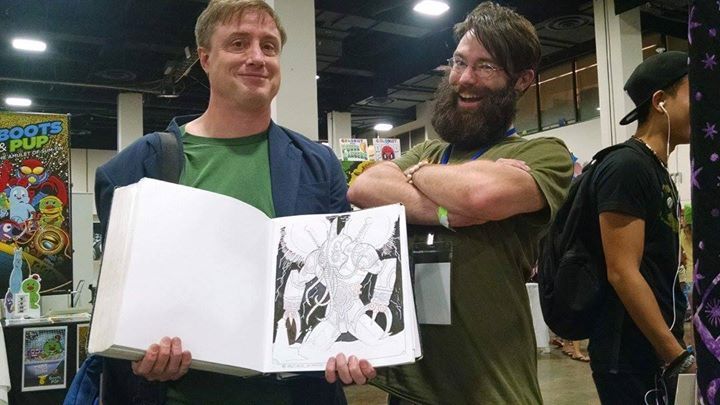 I'm barely scratching the surface of all we saw and did at BCC this year. Luckily we have an entire episode devoted to talking about the rest of it! Of course I can't end this without thanking everyone who came by our table and said hi, all those who even glanced in our general direction, and our ever loyal pal Joe for once again holding down our table when we were wandering off and promoting our show better than we ever could. You are all the greatest and really make this trip worth it. Now look at some more pictures!
-Jr.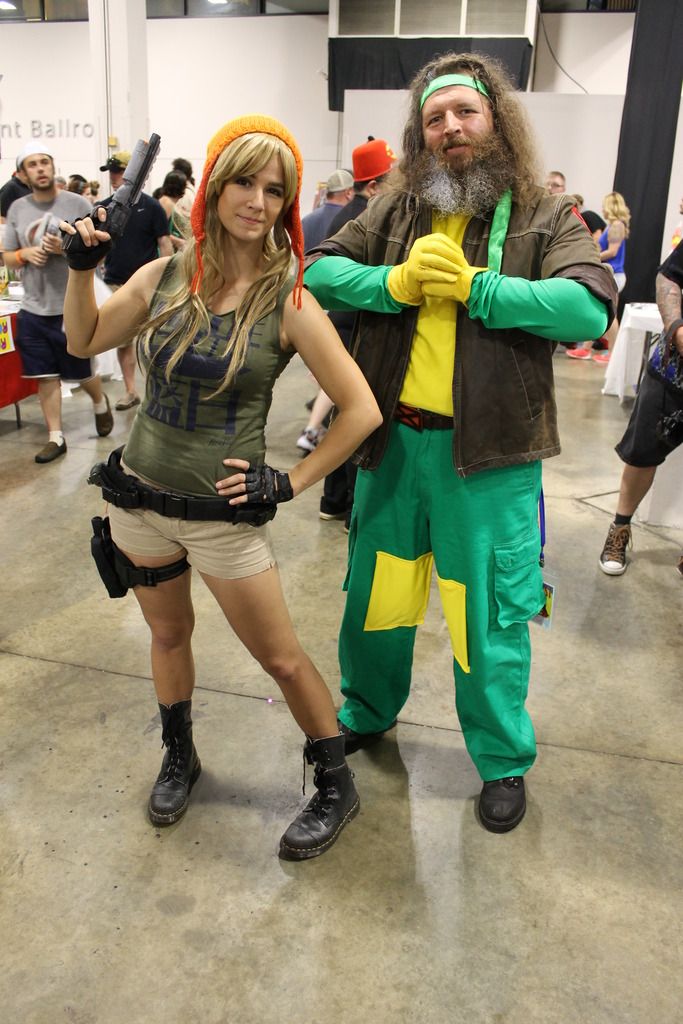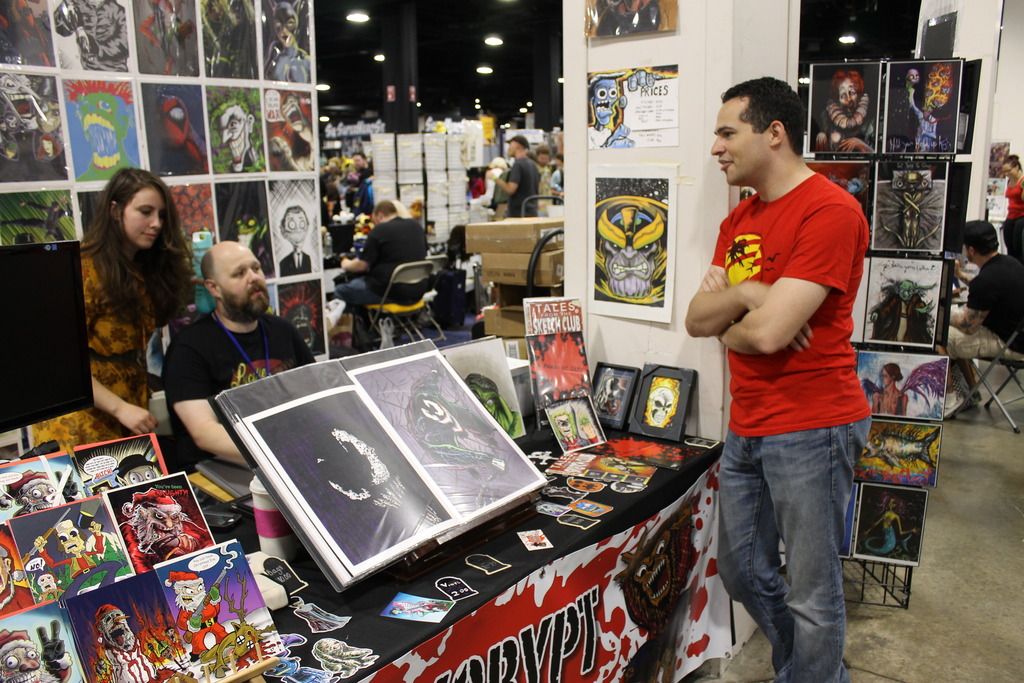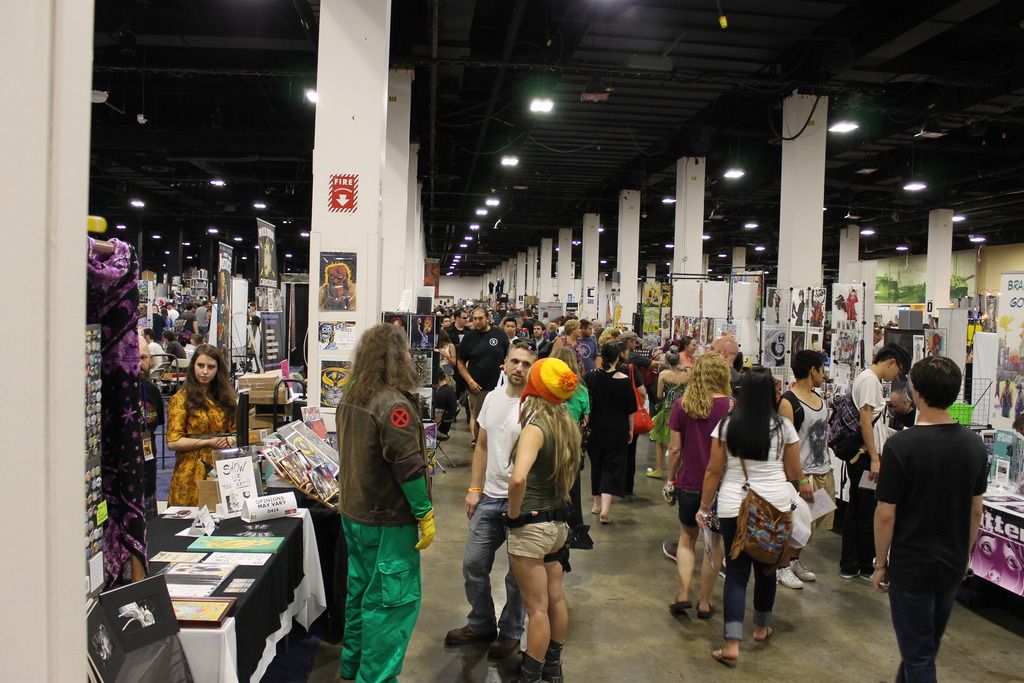 Comments[0]
---