Wed, 15 October 2014
Episode 135 with Will and Jon: The 2014 NYCC Wrap-Up
I spent $60 at NYCC this year. Can you believe that? Aside from food and travel I managed to walk out of the largest pop-culture convention in the country having only spent $60.
I'm pretty proud of that. There have been years at NYCC where I've made some more than questionable financial decisions all in the name of comics...but this year? This year I was a true "adult". While it's somewhat depressing becoming this "adult" it's also kinda neat. The $60 that I spent went towards things that were both awesome and reasonable. That's what adults do, right?
After re-reading everything I just wrote I realized I sound like a total asshole. That was not my intention. I was merely just trying to point out that I'm better at making financial decisions than you. Wait. That came out wrong. What I was really trying to say is it's very possible to enjoy yourself at a massive convention without spending every cent you have...This is something I wish I realized about 4 years ago. Shows like NYCC have this mystifying way of dragging your money right out of your pocket and before you know it you're desperately swiping your bank card at the ATM praying you magically won the lottery or something. I've seen it happen a million times. Literally. One million. Don't be that guy.
Anyway. Jon and Will were both at NYCC while I was also at NYCC. Sadly Alex couldn't go with us to NYCC so our recap of NYCC is both for you and for Alex. NYCC madness. All up in everyone's NYCC faces. Enjoy, ya'll.
-Jr.
Comments[1]
---
Wed, 8 October 2014
Episode 134 with Jon: "Comic" Con prep!
LIVE (sort-of...)
PRE-RECORDED: All the way from our makeshift studio in Alex's bedroom it's...
The 2014 OMV NYCC PRE-CONVENTION END-OF-SUMMER BASH!
No but seriously. After missing out on last year's NYCC show we're finally making our glorious return to the mighty Javits Center in New York City. Well. Half of us anyway. Sadly Alex is sidelined for a few weeks and will have to experience the show through me. Which means he'll be getting blurry pictures of video game booths and expensive toys all day. Sounds like a good time!
Jon, the legend himself, is also attending the show and joined us this week to discuss the guest list/plan our routes/debate politics. etc. You get the deal.
As always, expect an ass-ton of pictures to be uploaded over the course of the day and be on the lookout for next week's wrap-up episode where I'll tell Alex about all the money I spent.
-Jr.
Comments[0]
---
Fri, 3 October 2014
Episode 133 with Everyone...minus someone....
This week's episode is a bit...different. About 2 minutes in you'll understand why. Not to worry though; 'tis only temporary. It goes without saying that we wish Alex a speedy recovery and we're anxious to get him back in the studio with us ASAP!
In less depressing news:
After we finished up with recording last night Colin and Joe took their mid/late twenty year-old bodies and slept over at my place. Why would these fully grown adults do such a thing? The answer is pretty simple: At midnight we all started giggling really loud while we downloaded the new Smash Brothers game on our Nintendo 3DS videogame consoles. I mean seriously. You probably should have guessed that.
Anyway. In the past 20 hours I'd say I've put around 8-10 of them into playing smash. That includes the brief time that my body required some sort of sleep.
It's good.
It's really good. Like. Way better than I ever expected a handheld version of Smash Bros. to be. Seriously. Check out these photos I snagged. Not only is the game a hell-of-a good time but it's also beautiful.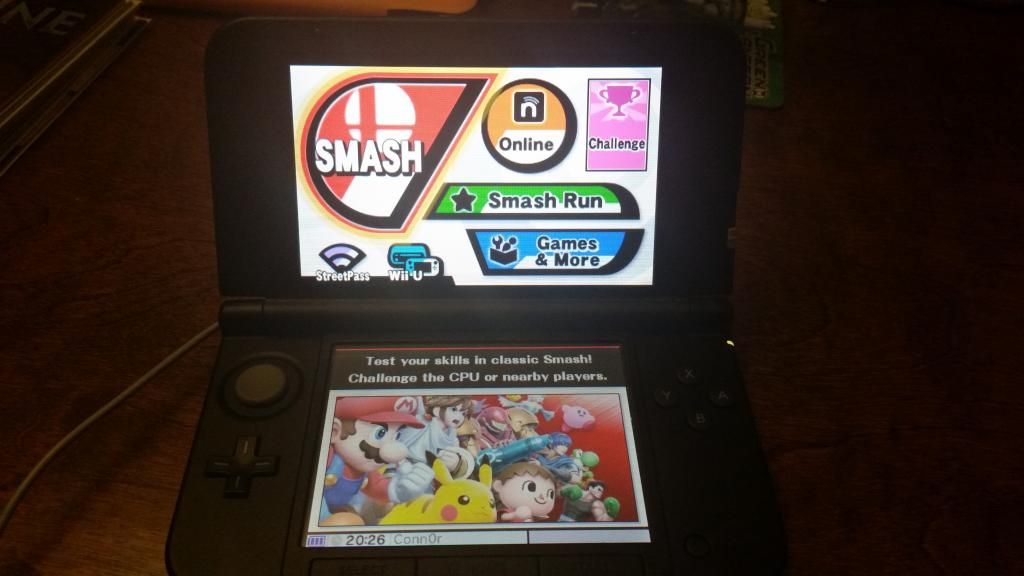 Remembering where they hid different gametypes can be tricky.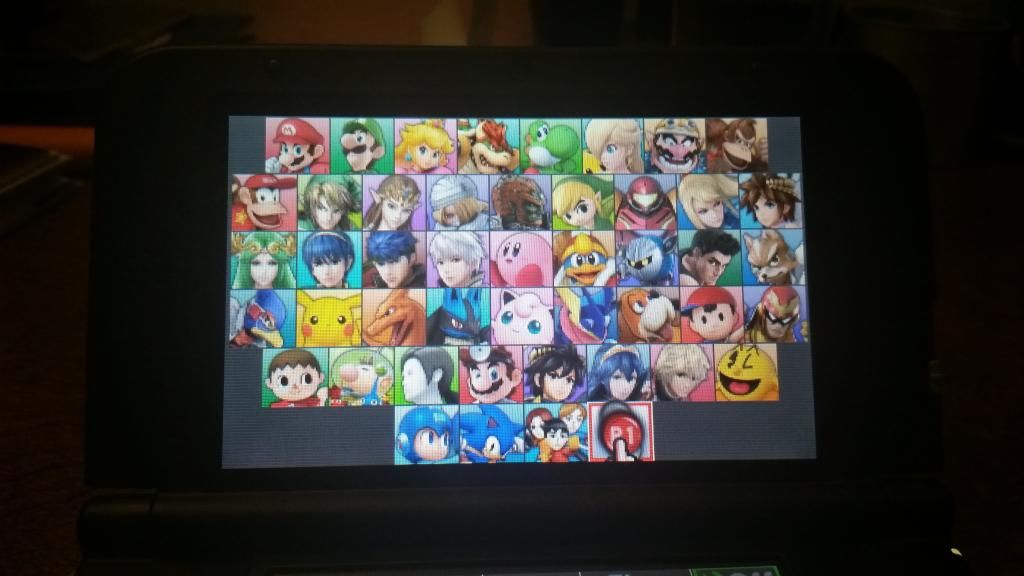 So many choices....and I haven't even unlocked all of them...
Going into the 3DS version one of the biggest concerns for me was the online aspect. Playing Brawl online was never a good time for me. It was plagued with laggy connections and confusing matchmaking that left such a bad taste in my mouth I rarely ever went near it. (To be fair I played maybe 3 matches online. I can't say I ever took a good chunk of time to try to figure it out)
However: I've played around 10 matches on the 3DS version and so far I'm very optimistic. While I'm still getting thrashed like usual it seems to be much easier to pair up with friends, find matches, and get to smashing.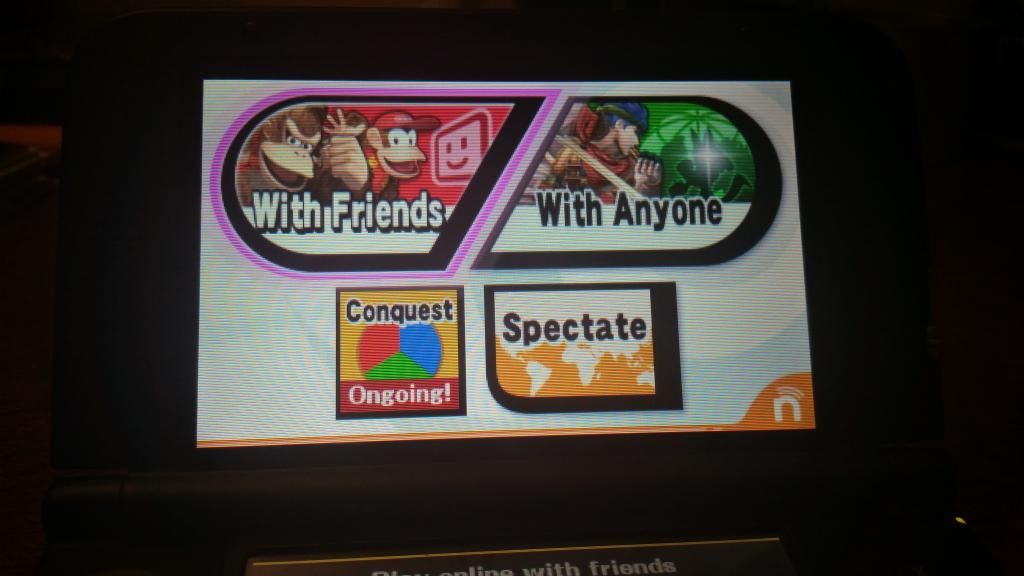 Nintendo made the online menus nearly idiotproof aka Jr-proof
One aspect that I really enjoy is the "For Fun" or "For Glory" option. It's pretty simple: If you want to just go in and play around without worrying about stats than For Fun is for you. If you're a hardcore smasher who wants to brag about their W/L record or their K/D ratio you might want to head on over to For Glory. Either way there's something for just about everyone who might want to play online and you don't have to be a legendary Smash God to get any fun out of it.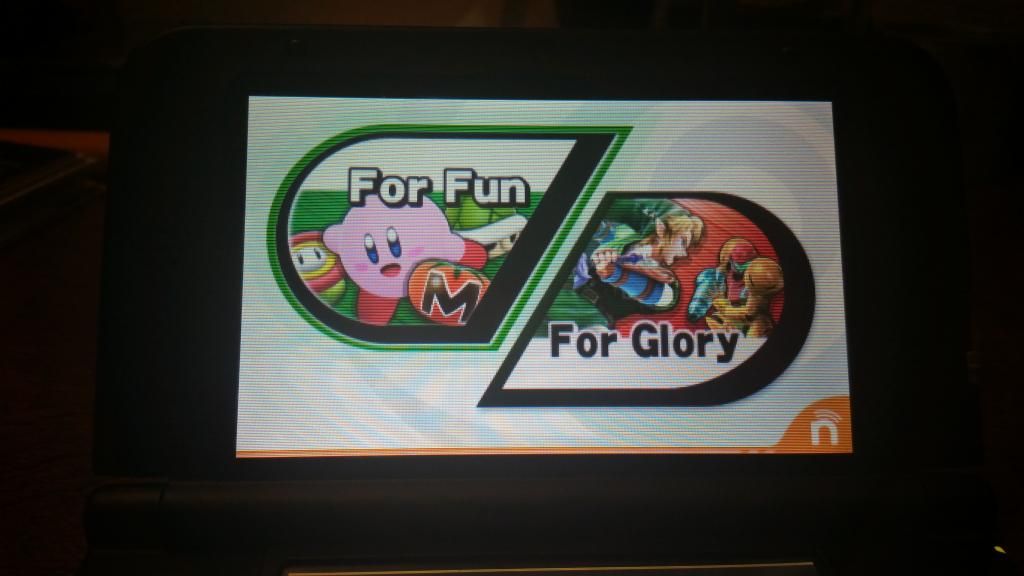 Seriously, though. For Glory is the only way to go. *flex*
I'm already well on my way to having a fantastic record. I mean seriously. Check out these stats. I'm not going to say you should bow to me or start paying me for lessons but...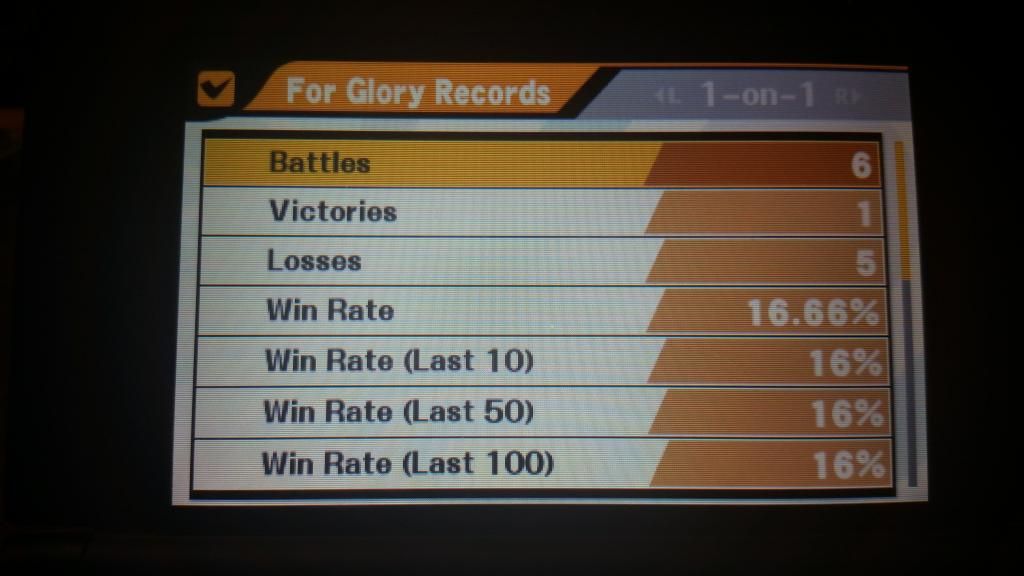 You can expect a full review of the game in the coming weeks. Once we really get a chance to play every mode/smash all the things we'll put our mics in front of our faces and tell you all about it. Until then you should all go out. Buy a 3DS. Buy a copy of Smash Bros and thank us later.
-Jr.
Comments[0]
---
Sat, 27 September 2014
Episode 132 with Adam: Opinions May Scary.
I just got back from a day of cider pressing. More detailed blog coming as soon as I dominate this nap.
After you finish this week's episode you can entertain yourself with a new video!
-Jr.
Comments[0]
---
Sat, 20 September 2014
Episode 131 with Rob Zeida: Invincipinions.
We've mentioned our love of Invincible and Ryan Ottley's artwork once or twice in the past...
Once or twice.
Anyway. During one of the many trips to Ottley's table at Boston last month Colin and I struck up a conversation with the dude behind the table with him. That dude's name is Rob and after talking with this dude for 10 minutes I knew this dude had to come on the show.
Listen to his story and take note. It pays to be nice and not that guy who just slams a stack of comics down in front of a creator. It's crazy how far a simple conversation will get you.
Also, it just so happens that Rob is the moderator of the Invincible Facebook page and Twitter account. HINT: If you're looking to see sketches/pages/covers/info you're going to want to give those pages a follow.
Now as much as I'd love to keep writing about how cool Rob is and how much we gush about Ryan Ottley this episode...the Smash Bros demo is out and I need to go get my Mega Man on.
OH! Before I bail here's another video we shot of Alex showing some of his recent finds:
-Jr.
Comments[0]
---
Thu, 11 September 2014
Episode 130 with Will: Opinions May Geocache. And get lost in the woods.
True story: Will used to be a door-to-door salesman.
This fact is evident when he comes on and pitches something to us.
Last time Will was on he pitched the card game Fluxx. I now own two different versions of the game and I tend to bring one of them whenver I go to a social gathering. I've turned into "that guy" who always brings "that game" and asks everyone to play it with him. I have no shame. I've accepted this.
This week Will's pitch is a little bit different....But he sold it just as well and now, like Fluxx, I'm pretty hooked.
I'm pathetic.
Quick side note: expect a lot more YouTube content to be coming at you soon. We've already uploaded a few videos this week with more on the way. Check out Alex's recent flea market finds:
PART ONE:
PART TWO:
-Jr.
Comments[0]
---
Sat, 6 September 2014
Episode 129 with Tom Franck of Comics and Comics!
Last month at the Boston Comic Con we had a gentleman approach our table and ask us about our "Show us your art" sign. We told him about how we like to look at people's art and he informed us that he had some art to show.
Neat!
Well it turns out this gentleman wasn't lying. His name was Tom and he had a book. A tome. An encyclopedia sized sketchbook: Full. Of. Sketches.
It was....amazing. Our jaw's dropped and our eyes filled with tears (just kidding. OR AM I?) This man had a collection that would make any comic fan stand in awe. Pages upon pages of a themed sketchbook; each page with a different artist drawing a different "giant evil robot". So simple. Yet so genius.
Tom turned out to be a cool dude and he's a friend of Charlie from Sketchprices. It was a no-brainer: We had to have him on the show.
And we did.
And now you can listen to it.
Also, while you're listening: Check out Tom's comedy group. They could be coming to a convention near you so be on the lookout!
-Jr.
Comments[0]
---
Sat, 30 August 2014
Episode 128 with Mike D: Jr. doesn't know anything about the Marvel Universe.
Mike was back this week.
We talked about Marvel stuff.
Chris Pratt is too cool.
Yeah. This is happening.
A frequent topic
Makes its glorious return.
Kickstarter owns us.
You wouldn't believe how long it took me to write those two terrible Haikus. But, they happened. So we'd best all just deal with it and move on.
Please don't let this post ruin 128 for you. I promise the episode is better than my attempt at syllabic poetry.
Mike episodes are always fun and full of Marvel goodness. Once again I'm made to feel foolish with my lack of S.H.I.E.L.D. knowledge. That alone should make the everything worth it. Enjoy!
-Jr.
Comments[0]
---
Fri, 22 August 2014
Episode 127 with Colin: Guardians of the Opinions.
It only took me the better part of a month but I finally caught up with the rest of the world and saw Guardians of the Galaxy.
I can't even begin to explain to you how frustrating it was having to wait this long. Joe and Colin were singing songs from the soundtrack literally all weekend long at BCC. Not to mention all the "oh man remember when" going back and forth. I now understand how someone who listens to this show might feel when we ruthlessly spoil movies just after they come out. (Hey, we're trying to get better. Remember our Spider-Man/Days of Future Past episode??)
But seriously though. There are a couple spoilers in this one but they're pretty easy to avoid: Simply skip to 40 minutes and you're gold. Boom. Roasted.
Oh hey there's also this time lapse video that we shot of the incomparable Brett Kelley at BCC. Bob of Dead Henchmen Productions threw it together for us with some slick graphics and stuff. It came out pretty neat!
-Jr.
Comments[0]
---
Sat, 16 August 2014
Episode 126: The 2014 Boston Comic Con Wrap-Up with Joe, Colin, and Brett Kelley!
Ok. So where do I even start with this?
We went to the 2014 Boston Comic Con last weekend. When I do some quick number crunching it tells me that it was our 5th year in a row attending. One might think "Gee golly wow. After 5 years has it lost any of it's luster??"
The answer is a simple and tremendous "no".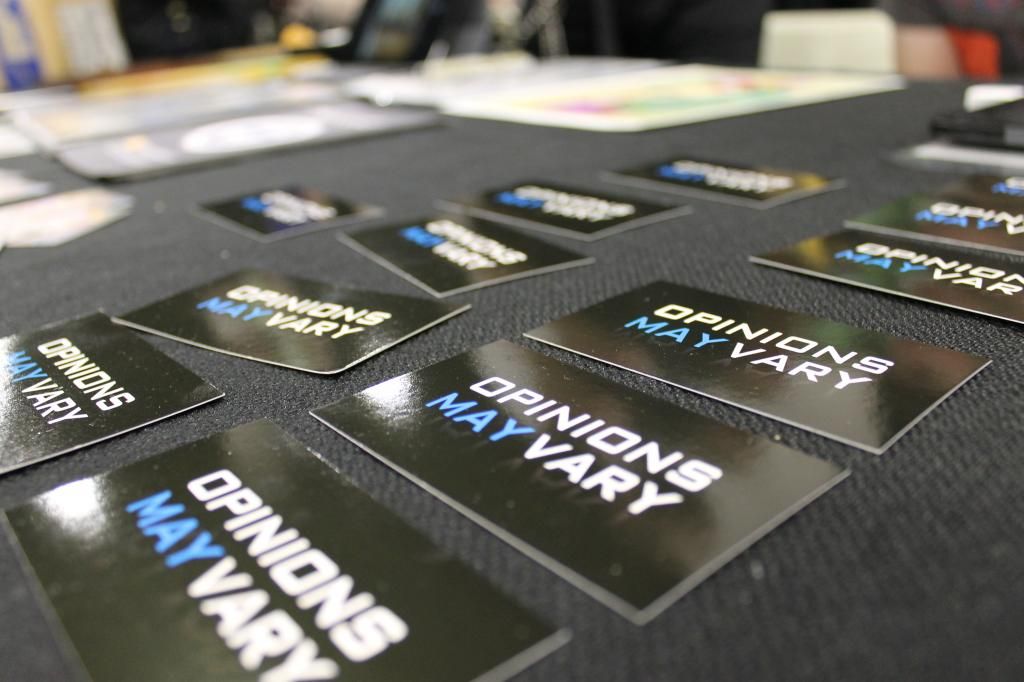 With each passing year BCC only gets better.
Last year we discovered the mystical land of tabling at a convention. Not only was it a blast but it was also an awesome success. After little deliberation we decided meeting people and watching Brett Kelley draw all day was definitely worth the price of getting a table again this year.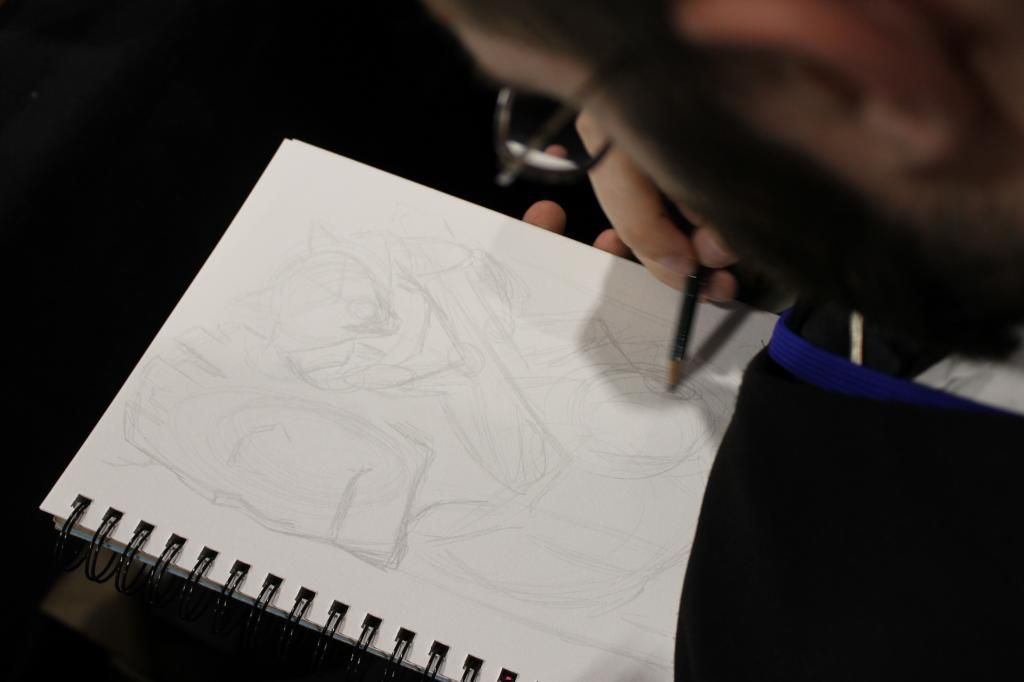 Front row seats to the best show in the house.
If you saw my post from a few weeks ago you probably noticed that we were placed near some high profile creators. Did we let this phase us?!? Maybe a little...but hey. When Gail Simone, Greg Capullo and Scott Snyder are RIGHT behind you...it's easy to get a little freaked out. Brett, on the other hand, was an art machine cranking out masterpiece after masterpiece despite all of the celebrity talent surrounding him.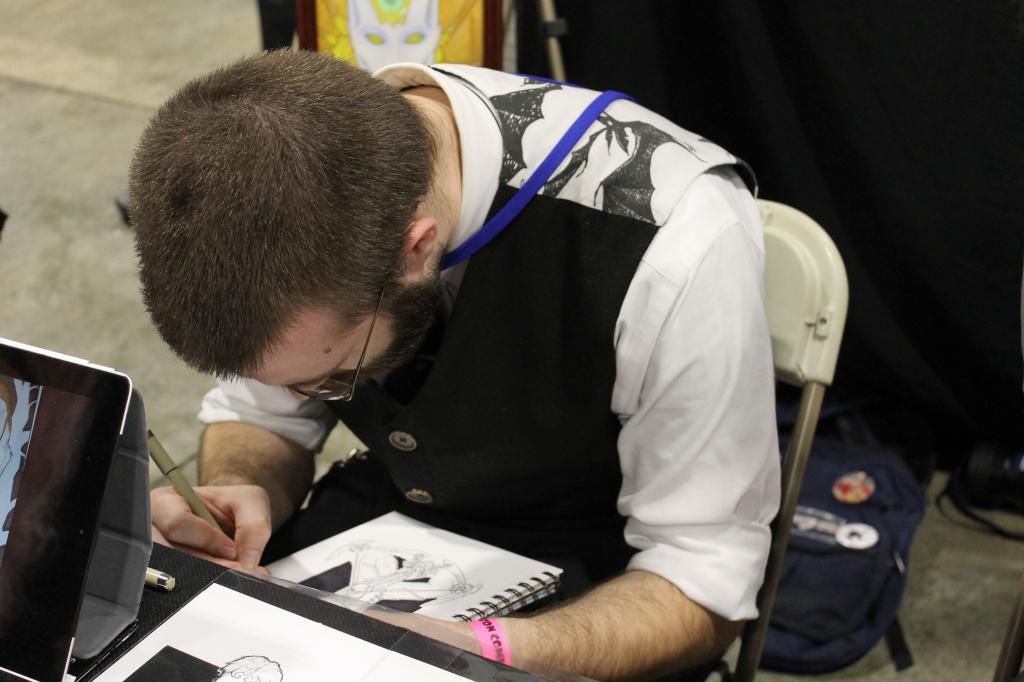 100% Art Focus. In the Art Zone. Having an Art Attack.
With this being the first year of BCC running a three day event I was a bit nervous we'd all be pretty burnt out by Sunday. We've gone to 3-4 day events before but we always bailed after the 2nd day. Having a table sort of changes this and I'll be the first to admit I was nervous.
Everyone knows concrete is the perfect napping surface.
Luckily I'm an idiot.
Despite being absolutely exhausted on Sunday afternoon I found myself wishing there was a 4th day. Alex and I have joked around about the "real life depression" before and I'm a firm believer that it is a definite "thing". After spending the weekend with your best friends doing nothing but the stuff that makes you happiest...going back to real life blows. It blows ass. It blows the most ass.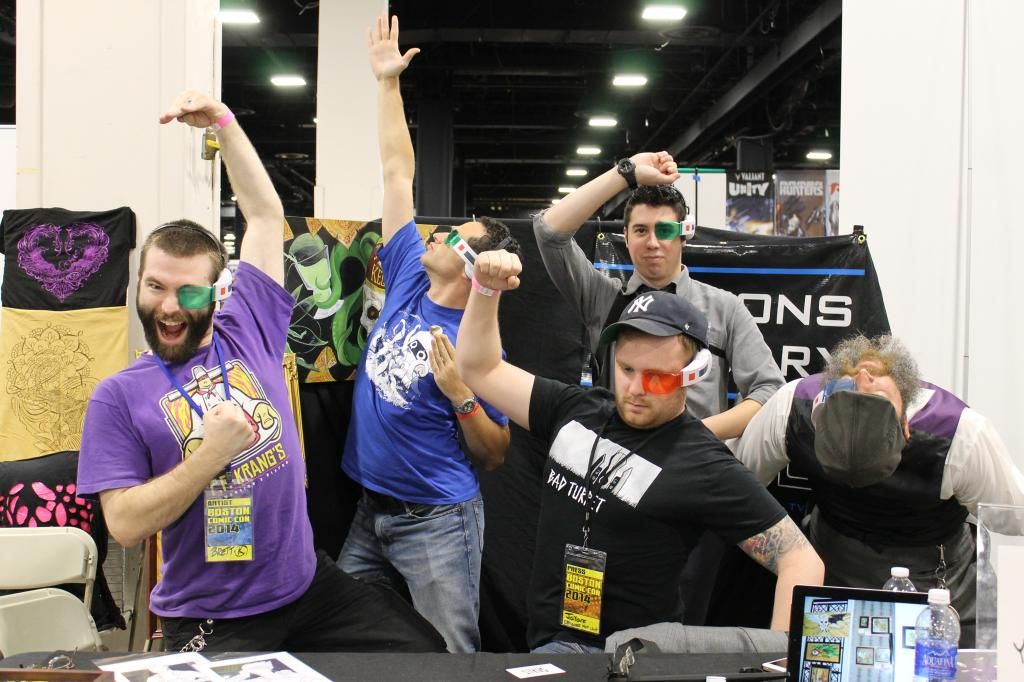 After 3 straight days of convention you'd think we would have been delirious.
Oh, and you've probably noticed Colin and Joe helped us out yet again. I feel like Alex and I can't thank these guys enough for all the things they've done for us. It's truly an honor to be able to call them friends. They have helped mold OMV into the broadcasting powerhouse (bahaha) that it is today and without them we'd be nothing but two morons ranting about Chew and Kickstarter.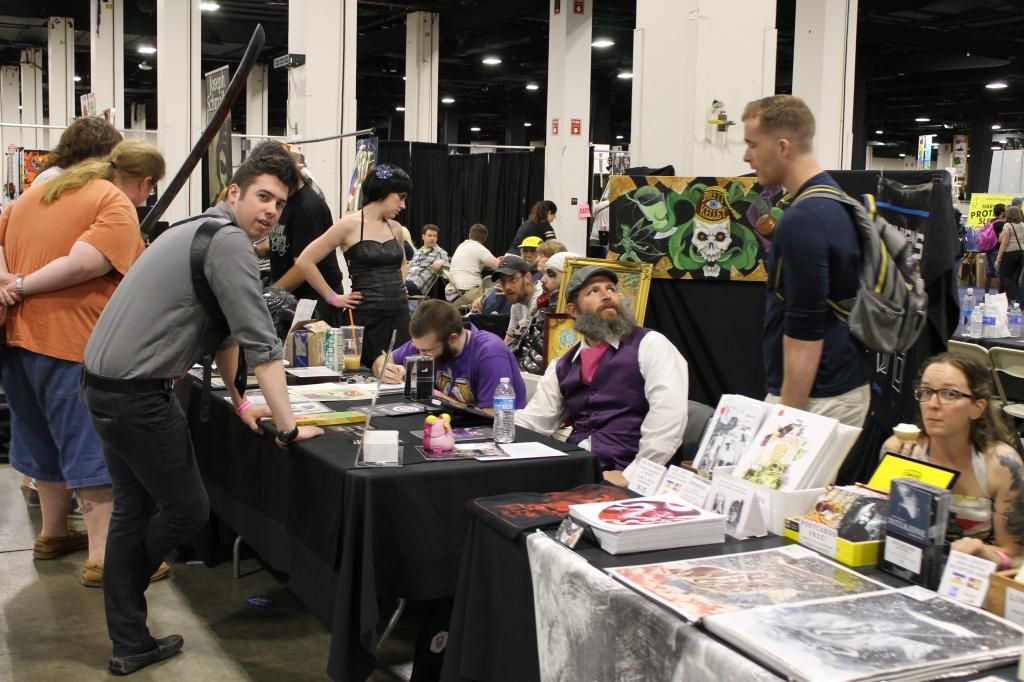 Walking up to our table and seeing these dudes never gets old.
Anyways. Enough sappy stuff. We have a fantastic 2 hour episode waiting for your faces and we'd love if you would listen to it. We also have a huge photo gallery on our Facebook page featuring a bunch of new friends and even some former guests!
Enjoy the episode, everyone. Thanks again to everyone who stopped by booth C821 and we hope to see you all next summer!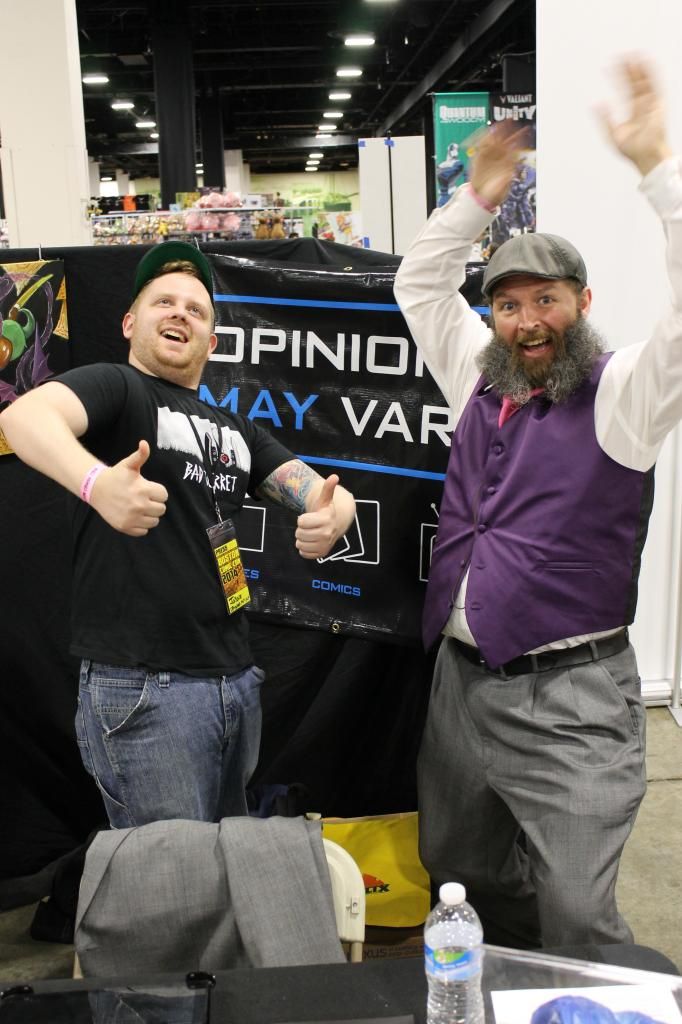 -Jr.
Comments[0]
---